Tunisie Telecom - the second GSM operator in Tunisia by the number of clients, partly owned by the state. The number of subscribers is about 34% of the total number of residents using mobile communications. Tunisie Telecom cell coverage is not inferior to that of Ooredoo - the local market leader. To use the TT's new SIM cards for traffic termination, choose the most profitable service package.
The cost of a prepaid SIM card is up to $3. Tunisie Telecom also offers a Tourist Sim, especially for tourists. The SIM card costs $3.3 and $1.65 (the initial loan) is immediately received on your account. The prepaid line is represented by different tariff plans:
Haya. The cost of a minute of call is $0.02. For connection of the tariff plan, 8 cents will be charged from your account.
MRIGUEL. Provides a bonus of 1000% for the first topping-up. One minute of call costs $0.13 (to all networks).
Trunkil Offre. Offer for new subscribers (connection is free). The cost per minute to all networks is only $ 0.01.
DayPass. The offer is valild for 1 day, provides 40 minutes for calls, the cost of connection is 30 cents.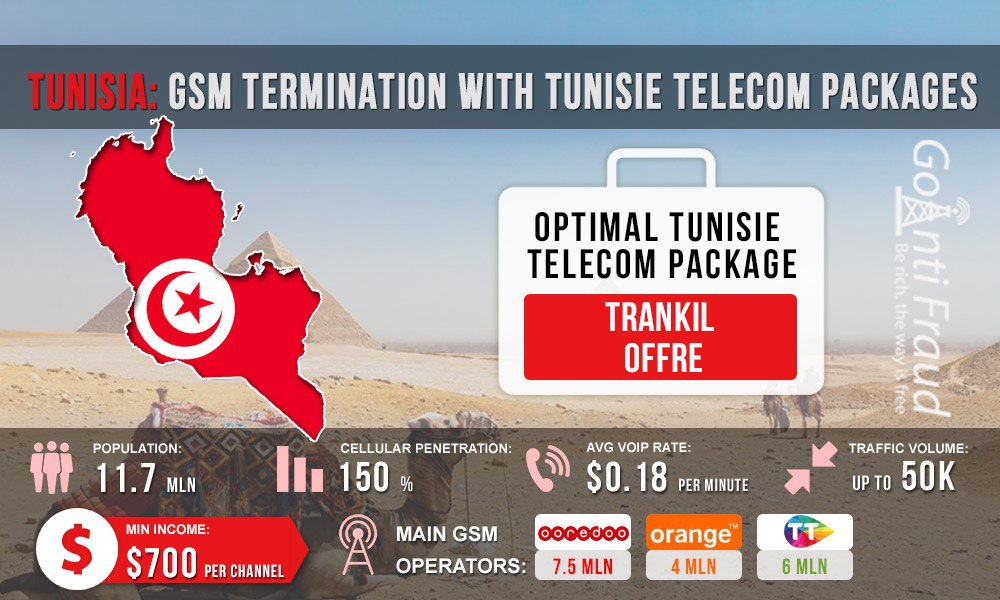 Additional minutes are also available within Option ++ range (you can connect to any tariff plan):
15 min. Price - $0.16 a day.
40 min. Price - $0.3 a day.
Unlimited. Price - $0.5 a day.
To operate SIM cards using gsm wireless gateway, we recommend connecting the Trunkil Offre package. With this package, the price per minute of an outgoing call will be just one cent. Your earnings will be approximately $90 from one port (if your equipment is running for five hours a day).