Rwanda's broadband Internet market is developing slowly. This has to do with the limited fixed-line infrastructure and relatively high prices for services. Nevertheless, fiber optic networks are expanding in the country and it is possible to connect a high-speed Internet for earning on termination. However, to start a business in this country, you should first estimate the Internet costs.
The most popular Internet providers in Rwanda are MTN Rwanda (they also provide mobile services) and Liquid Telecom. The latter operates under the Hai brand and offers connecting the fiber-optic Internet. Let's discuss the prices for the Internet from Hai, since fiber-optic networks are the most suitable solution for call termination system operation.
Hai offers several packages within the Fiber range. They differ in download speed:
Basic Essentials. Speed — up do 5 Mbps. Price per month — $56.7.
Family Entertainment. Speed — up do 15 Mbps. Price per month — $79.
Modern Family. Speed — up do 30 Mbps. Price per month — $129.
Power Pack. Speed — up do 100 Mbps. Price per month — $226.8.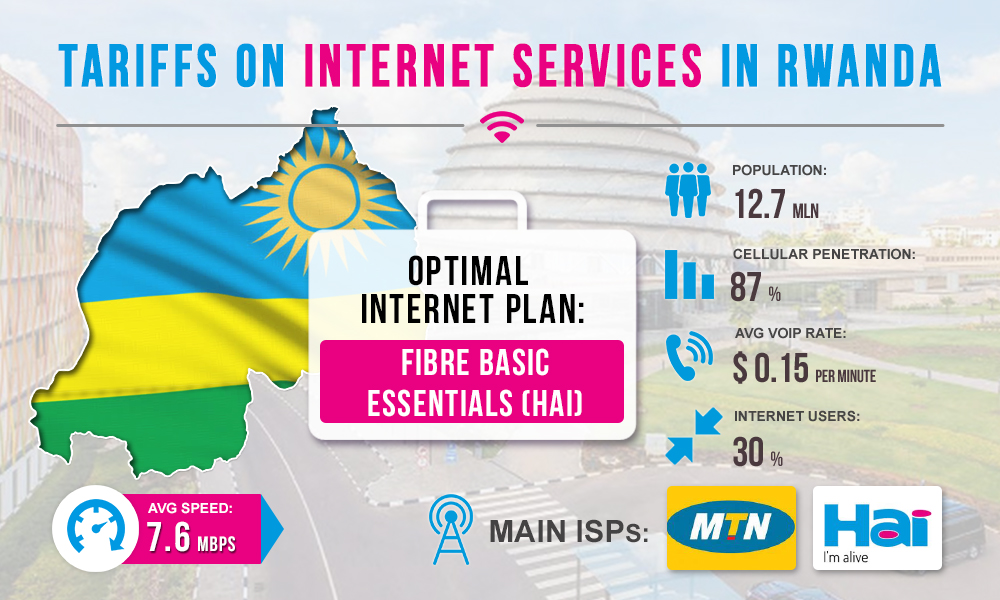 Additionally, you will need to pay about $50 for connection.
For termination, we recommend using the capabilities of Basic Essentials Internet-plan. The speed of 5 Mbps is high enough for smooth operation of GSM gateways for a small number of channels. For effective termination with the minimum blocking of SIM-cards, it is recommended to accommodate the equipment with the lowest number of ports in one location. A subscription fee of $56.7 per month is quite high, but if you earn $150 and more from a single channel, such expenses are well justified.