The broadband Internet access sector in Ethiopia is now in an active development stage. The increase in international bandwidth and the expansion of the national fiber-optic network contributed to the reduction of tariffs for Internet services. However, before locating the GSM gateways in Ethiopia, it is important for the terminator to figure out whether the local Internet rates are suitable for calls termination.
The country has had a monopoly in all sectors of the telecommunications market for many years, including the Internet segment. The only player in the local market is Ethio Telecom. Among the Internet services that the provider offers are ADSL, EVDO Internet. Since EVDO is based on CDMA technology and represents mobile Internet, it is not suitable for termination. It is better to use ADSL. Let's discuss the pricing for Ethio Telecom Internet services within the ADSL range.
There are 3 packages with restrictions on the amount of traffic used:
2 Gb. Speed - 512 Mbps, price - $8.77.
4 Gb. Speed - 1 Mbps, price - $14.
6 Gb. Speed - 2 Mbps, price - $19.3.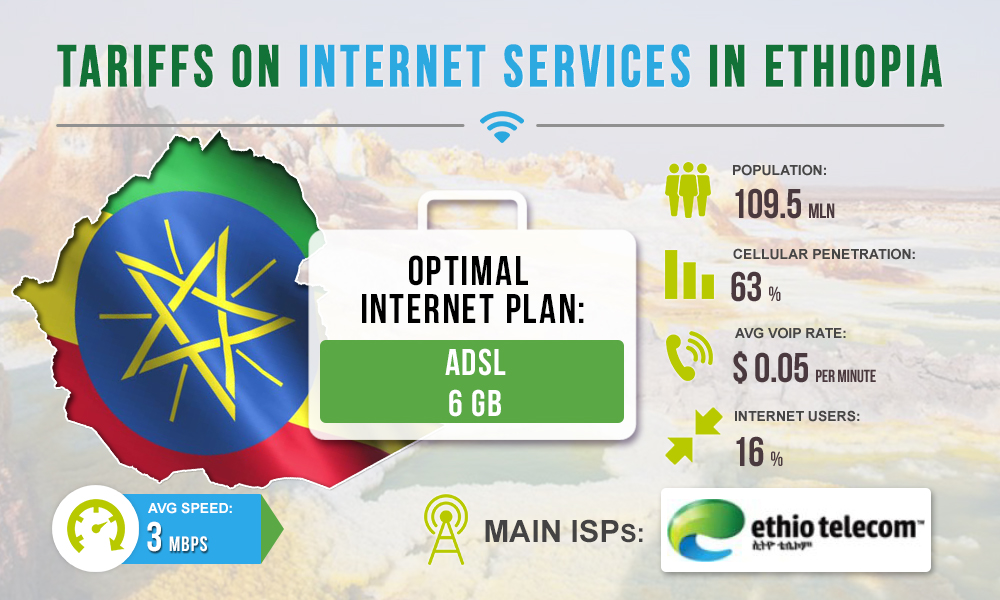 There is also an unlimited offer represented by several packages. The most suitable for termination are the following Internet plans:
2 Mbps. Price - $62 a month.
3 Mbps. Price - $96 a month.
4 Mbps. Price - $112 a month.
5 Mbps. Price - $136 a month.
Choose an Internet plan from Ethio Telecom based on your business needs, i.e. focusing on the amount of traffic being landed, the voip server software equipment expenses and the amount of potential earning. In terms of the speed and optimal cost, we recommend the ADSL 6 Gb package. Whether or not the amount of traffic offered as part of a package would be enough for you depends on how many minutes you will need to work with. For terminators operating in regions with by-megabyte billing, we recommend using GoAntiFraud's SBO Traffic Optimization. The software module reduces the cost of the Internet, due to "compression" of the Internet traffic.