Namibia is an underpopulated African country. Despite that, there is good GSM coverage there - both in populated areas and along the main highways. Competition in the cellular market used to be slowly introduced in the country but since 2006, after the second operator emerged in the market, mobile penetration has increased significantly. It exceeds the average for the region, which opens up excellent opportunities for earning on termination.
As of 2019, mobile penetration in Namibia reached 105%, with a population of over 2.6 million. There are about 2.75 million cellular connections in general. GSM coverage is available for 95% of the population.
For a long time, a monopoly in the field of telecommunications prevailed in the country, particularly in the mobile sector. Today there are two main mobile operators in Namibia:
МТС (about 2.2 million subscribers);
TN Mobile (about 0.55 million subscribers).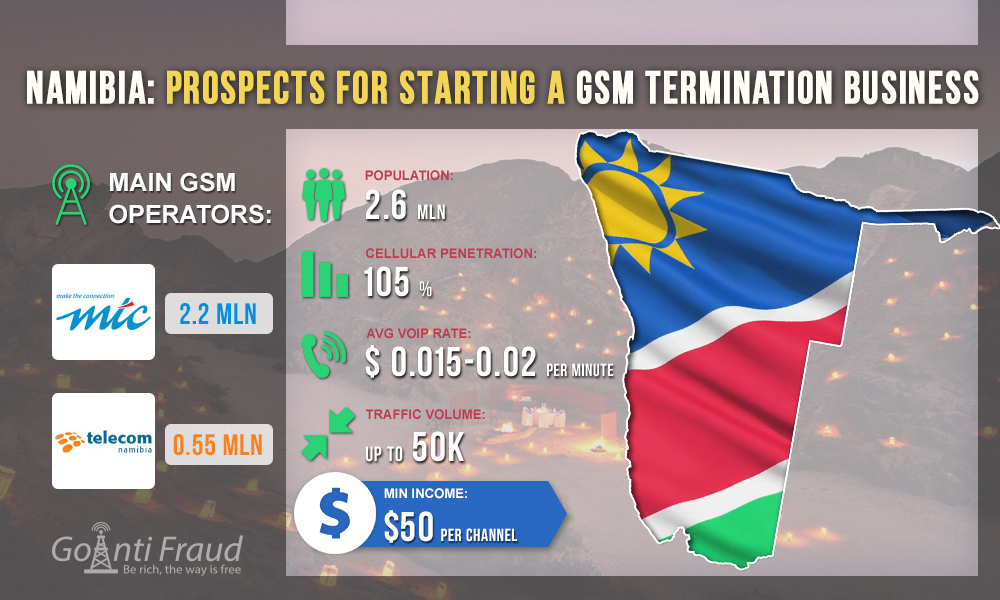 There is also an operator named Paratus Telecom, but it provides only 4G Internet access services.
Prepaid SIM cards are cheap in Namibia, they cost about 50 cents apiece. The standard rate for national outgoing calls is $0.1 per minute. With average voip mobile rates of about $0.015- $0.02 per minute of conversation, these rates are high. But local operators have many better offers for prepaid subscribers. For example, using MTS services you can select a package with which a minute of a call will cost only $0.002. Thus, the minimum earnings of an entrepreneur will be about $50 (from each port of equipment), if you locate the gateways in Namibia.