Mobile operators of all countries of the world are aware of the GSM gateways owners who make money by landing voice traffic at local rates. Therefore, cellular service providers are actively fighting terminators by means of special programs, the so-called "AntiFraud systems". Analytical and "robot calling" software monitors the subscribers' activity in the GSM network and in case of inconsistency with the "normal" activity of an average user it blocks the SIM card. The main goal of the VoIP termination entrepreneurs is to minimize the number of blocked cards, because this is what their profit depends on.
Please mind it that 100% preventing of SIM-cards blocking is simply impossible, even if some company has ever offered you this. However, reducing the frequency of the SIM-blocking is quite a possible task that every entrepreneur should cope with, if he or she wants to get a decent profit. Want your cards to "live" as long as possible? Then you need professional software designed specifically to simulate human behavior. By copying the real subscribers behavior scenarios for your SIM-cards, you can outsmart the operator and its antifraud system. The best option of specialized software for effective termination is GoAntiFraud service.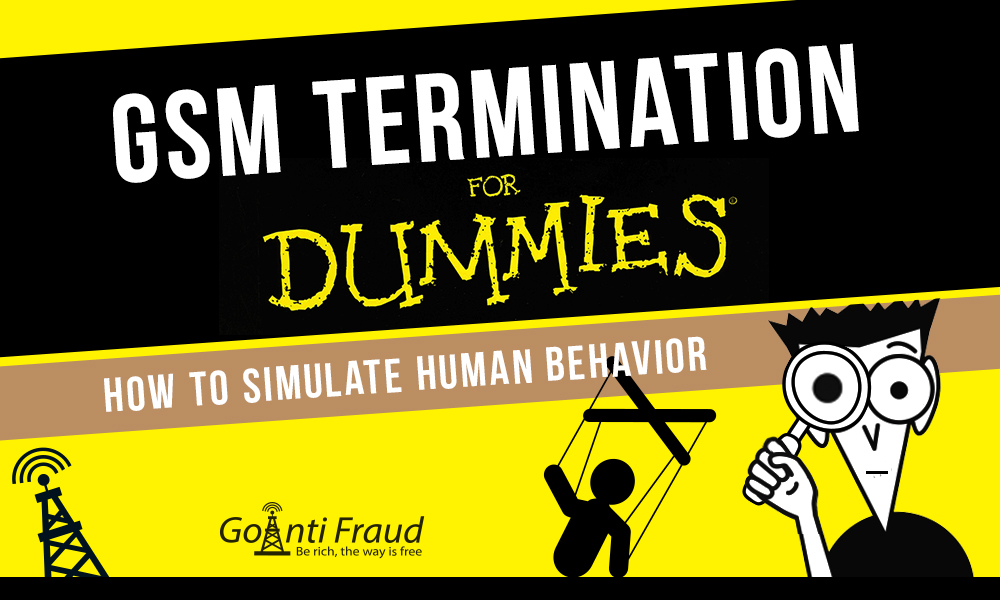 How exactly should the human behavior be simulated? Using special software will allow you to:
Simulate rambling around the city. Real subscribers move around the city and the operator can see it by registering a SIM card at different base stations. The "Roadmap" allows simulating movement around the city.
Make calls to your favorite numbers. All people call to relatives, friends or colleagues. There are numbers that are used most often. The operator pays attention to this as well.
Answer incoming calls. It is impossible for a real subscriber to only make calls and not receive any. Therefore, you need to generate incoming calls using software.
Make USSD requests and send messages. We all send SMS's, check how much money is left on our account, connect bonuses, etc. Many subscriber actions require the SIM card to make USSD requests.
Make pauses between calls. Who makes calls without a break? Right, the gateway. Antifraud systems track the numbers from which the calls are made one after another. Professional software allows setting pauses between calls from the SIM-cards involved in termination.
The voip mobile voip business will bring you high profit only if you solve the issue with the SIM-blocking minimization. Use the GoAntiFraud tools to effectively simulate human behavior.