The TN Mobile brand (formerly LEO Mobile, Cell One) is owned by Telecom Namibia. It is the second largest cellular operator in the Namibian market, with less coverage and lower prices compared to MTS the leader. TN Mobile SIM cards can be a profitable solution for international traffic termination, provided that you choose the right tariff plan from this operator.
Prepaid starting plans from TN Mobile are sold for about 50 cents each. They are represented by two offers: Prepaid Per Second and Hola !. The former provides per-second billing. A minute of call will cost $0.1 in the former case and $ 0.066 in the latter case. But all the same, the standard tariffs for outgoing calls are expensive for making money on termination. However, TN Mobile has a Jiva Family range for prepaid customers.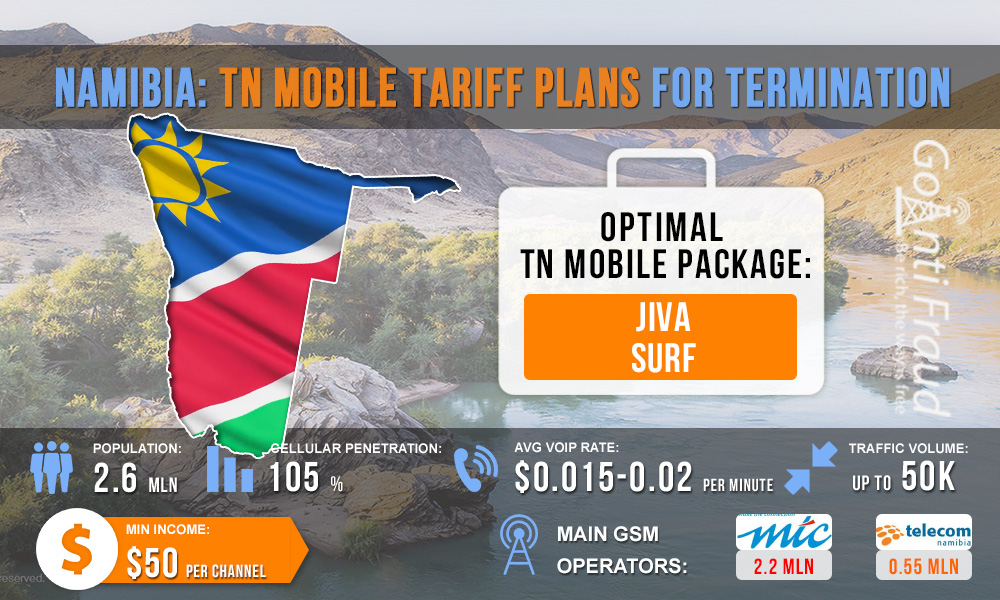 Jiva Family provides a certain number of minutes for voice calls, mobile Internet traffic and SMS. There are several plans:
Jiva. 100 minutes + 1 Gb + 700 SMS. Cost —$2.07.
Jiva Plus. 100 minutes + 1.3 Gb + 700 SMS. Cost —$2.4.
Jiva Surf. 100 minutes + 1.3 Gb + 700 SMS + night unlimited. Cost —$2.7.
Jiva Surf will be the best solution for working in termination using gsm gateway home use. A minute of a call will cost $0.01, if you use this plan, plus you can use the possibilities of unlimited night calls. Thus, the terminator will be able to earn at least $50 from each gateway port. The more channels you use in your work, the higher your profit from traffic landing will be.