Madagascar is an island country where tourism is the main source of economic growth. This ensures constant generation of international voice traffic. Mobile penetration is low there - only 31%, but due to high population, it amounts to more than 8.3 million connections. All this makes Madagascar an attractive place to start a business in voice traffic termination.
The economic growth of Madagascar over the past few years has raised the customers' expenses on communications services. Also, tariffs for services decreased due to competition between four operators. Currently, there are four mobile operators in the country:
Airtel;
Telma;
Orange;
Bip (Blueline).
Despite the fact that the mobile penetration rate in Madagascar is lower than the average for the African continent, the country has excellent potential for the cellular communications market growth. GSM coverage remains somewhat heterogeneous in the country; there are areas with no signal at all, while the network is good in large settlements.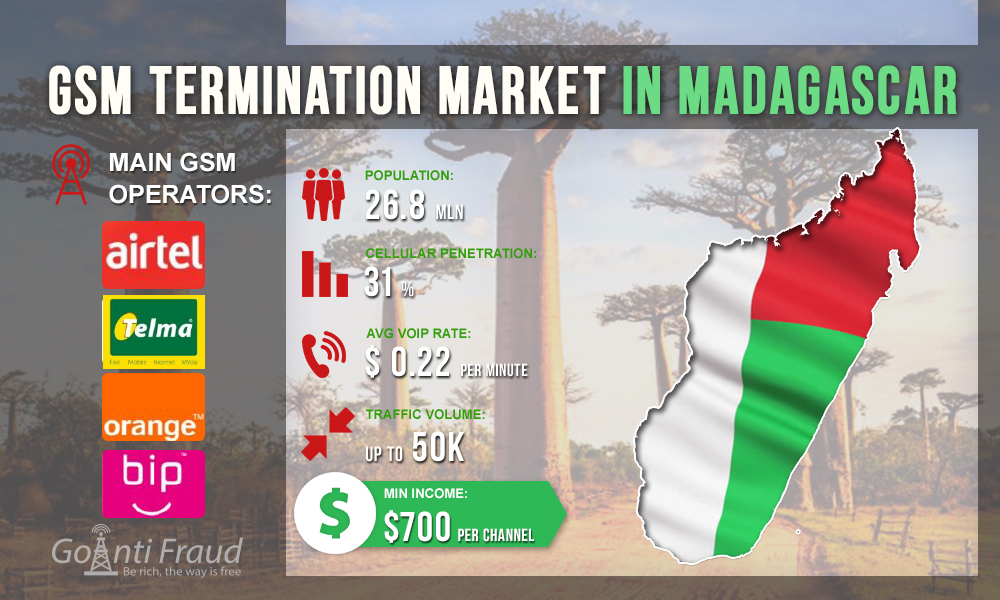 Airtel, Telma and Orange own one third of the market each. The rest of the country's subscribers use the services of the fourth operator - Bip. It appeared in Madagascar in 2016; the brand belongs to the local telecommunications company Blueline.
Prepaid SIM cards in the country are sold for approximately $0.6- $1.2 apiece To buy a starting plan in the selected operator store, you need to present your passport; you can also be photographed on the spot. Therefore, we recommend finding a supplier of cards among street vendors or by advertising on a dedicated online forum. After buying a SIM card, the subscriber has 90 days to activate it, then it can be deactivated if you fail to provide identification information for registration.
The average rate for Madagascar, as well as the voip call rates india, is quite high. At the same time, cellular communication within the country is cheap. Due to this, the GSM equipment owner can earn at least $ 700 from each gateway channel in this country.