Madagascar is a great choice for earning on termination, if we take into account the high rate, the population of more than 26 million people, a sufficiently developed cellular communications market and constant generation of international voice traffic due to tourism. The Internet sector is now actively developing, competition is emerging, the services are becoming cheaper and the fiber-optic network is expanding. However, for decent earnings it is important to reduce the business expenses. Let's calculate how much it costs to connect the Internet to be able to work on the island.
There are several popular Internet providers in Madagascar; the main ones are Telma, Orange and Gulfsat. There are many opportunities to connect to LTE networks, but mobile Internet is not suitable for profitable termination. The whole thing is a signal stability and unfortunately, 3G and 4G cannot boast of it. Therefore, all the terminator can choose is only the broadband Internet with good speed.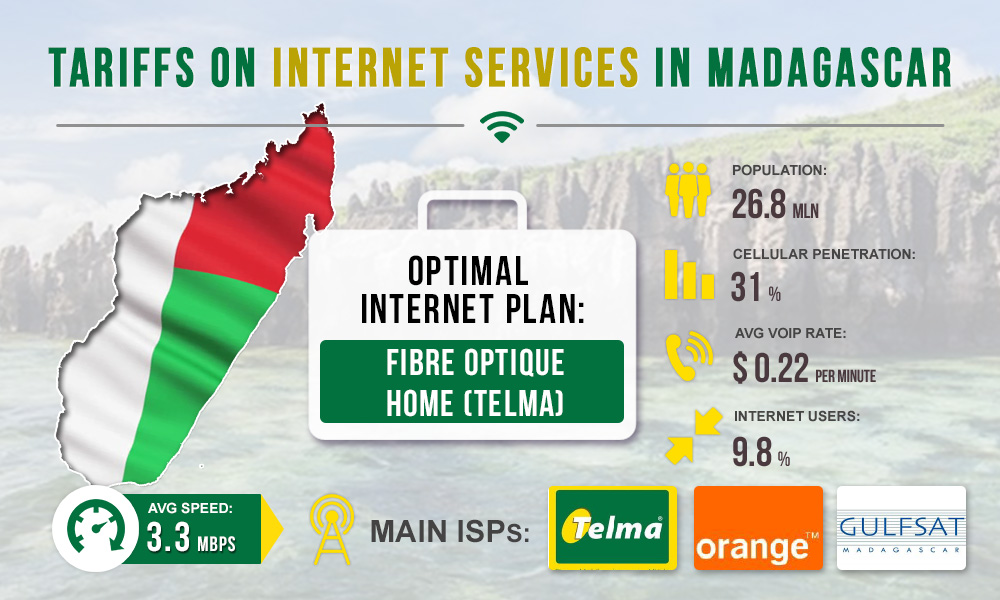 You have an opportunity to connect the Internet using several technologies in the country - DSL, WiMax, Fiber-Optic. Fiber-optic Internet is considered the best option, since such an Internet connection is stable and usually provides high data transfer rate. Remember that the minimum speed for goip 32 or any other gateway should be 2-5 Mbps and the more channels are involved in the termination, the higher the speed has to be.
The fiber-optic Internet access services in Madagascar are offered by Telma. This Internet provider also provides cellular services. Telma's fiber connection offer is called Fiber Optique Home. The Subscription fee is $78 per month. This sum includes unlimited Internet access, connection procedure and a router, which will be provided to you for use. Fiber Optique Home will be an excellent solution for termination, and with a minimum income of $ 700 per channel, the price of $ 78 will not hit you hard in the pocket.