Mauritius is an island nation whose economy is based on sugar production and tourism. Thanks to the developed tourist area, there is always a lot of international voice traffic generated here. The island's population is small - about 1.27 million people, but the mobile penetration has reached 151% (1.92 connections within the country). For VoIP traffic termination business, Mauritius is an excellent location.
In the island state of Mauritius, mobile networks were launched in 1989 and were the first in Africa. The cellular market is well developed: penetration has reached 151%, as of 2019. There are three GSM operators:
Mauritius Telecom (provides mobile services under my.t brand);
Emtel;
Chili (owned by MTML).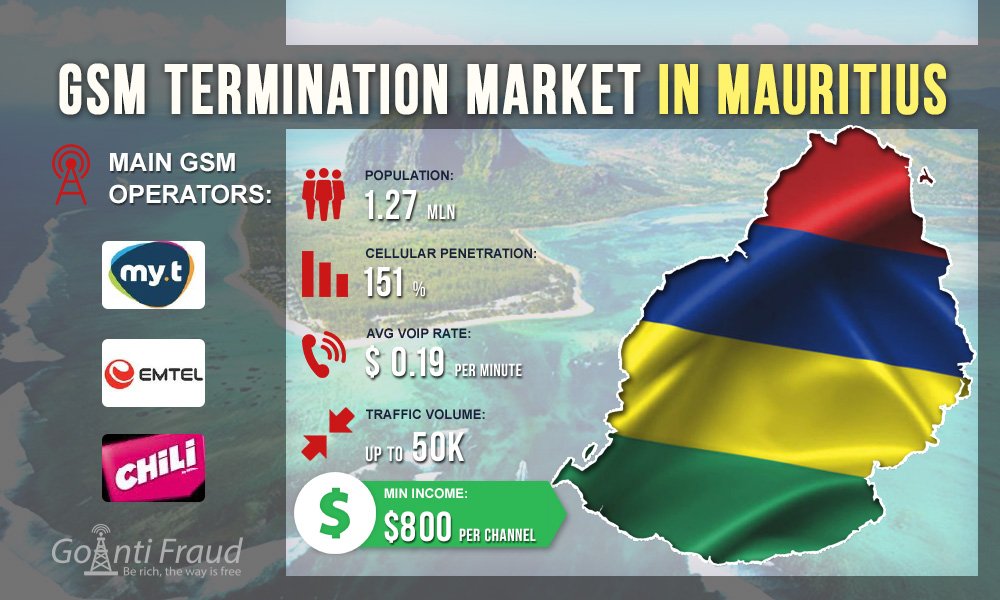 To buy a SIM-card on the island of Mauritius, you need to present your passport to register the number. Therefore, we recommend finding a supplier of new SIM-cards registered to third parties in advance. The starting plan costs about $2.85. The cost of a minute of call in Mauritius is about $ 0.03. The rate in this direction is high, on average, it is $0.19 per minute of conversation, which allows making good money on voice network traffic landing.
The terminator will be able to gain a profit of $800 and more from each gateway port. This is provided that the equipment will operate for five hours a day. The longer your gateway works and the more channels you use in traffic landing, the higher your income will be. Do not forget that AntiFraud systems are actively working in high-rate countries. Provide your SIM-cards with reliable protection against frequent blocking with GoAntiFraud.