Mauritius Island attracts the traffic termination entrepreneurs by high rate, developed mobile communications sector and large flows of international calls. The Internet services market is also well developed there; it is possible to connect WiMax, fiber etc. But what are the Internet expenses that a start-up terminator will encounter in the Republic of Mauritius?
The main Internet provider on the island of Mauritius is My.t, which also provides cellular services. Let's discuss its Internet rates as an example: The provider has two Internet plans for broadband Internet access:
10M. Speed - up to 10 Mbps, data limit - 150 GB, cost - $22.6.
10M Discovery. Speed - up to 10 Mbps, data limit - 30 GB, cost - $11.3.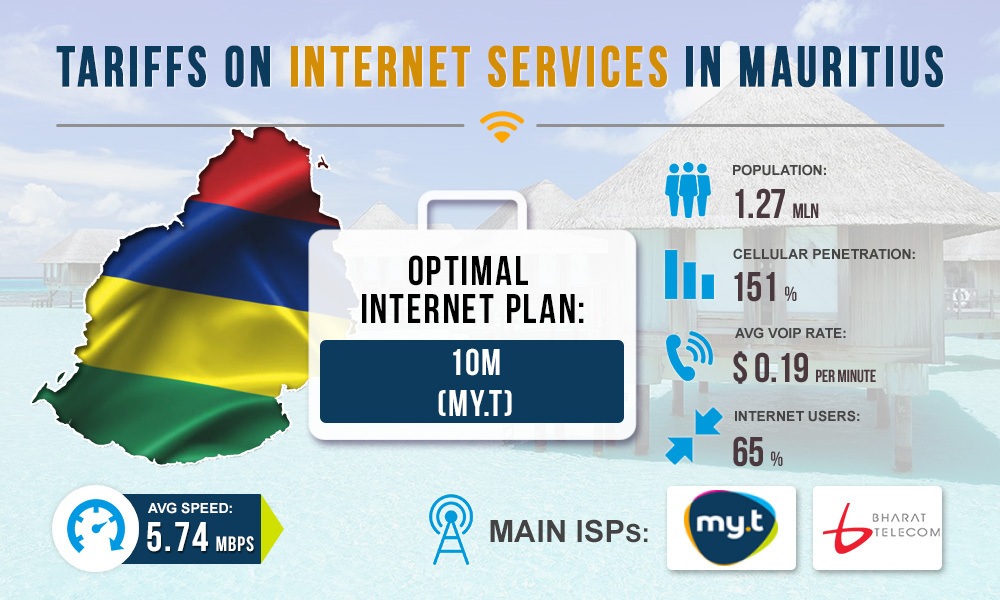 There are also "mixed" offers that combine access to the Internet and television. We do not need television, but they offer some packages with higher speed:
20M. Speed - 20 Mbps, data limit - 1 TB, cost - $34.
50M. Speed - 50 Mbps, data limit - 2 TB, cost - $57.
100M. Speed - 100 Mbps, data limit - 4 TB, cost - $80.
Your choice depends on the number of equipment and channels you plan to work with. The more channels and gateways you use, the higher will be the speed you need. For normal operation of gateway gsm eurotech with a minimum number of ports, you need Internet at 5 Mbps speed. Therefore, the 10M Internet plan would be quite suitable for you, if you plan to land a small amount of traffic in one location. Monthly expenses of $22 will not affect your profits, which make up $800 and higher in Mauritius.