Previously, Viva was the fourth player in the market in terms of the number of subscribers, but after amalgamation of Orange and Tricom, it ranked third. Its share in the mobile sector is small - only 4% and the GSM coverage is worse than that of Claro and Altice. But Viva has the lowest prices for prepaid mobile communications, so the SIM cards of this operator are quite suitable for profitable VoIP termination.
Viva SIM cards can be bought at Punto Viva's outlets, but the buyer is required to present his/her passport for registration. It is also possible to buy the starting plans from the street vendors. The cards should be registered to someone's name. The cost of a SIM card in the Dominican Republic is about $2 apiece.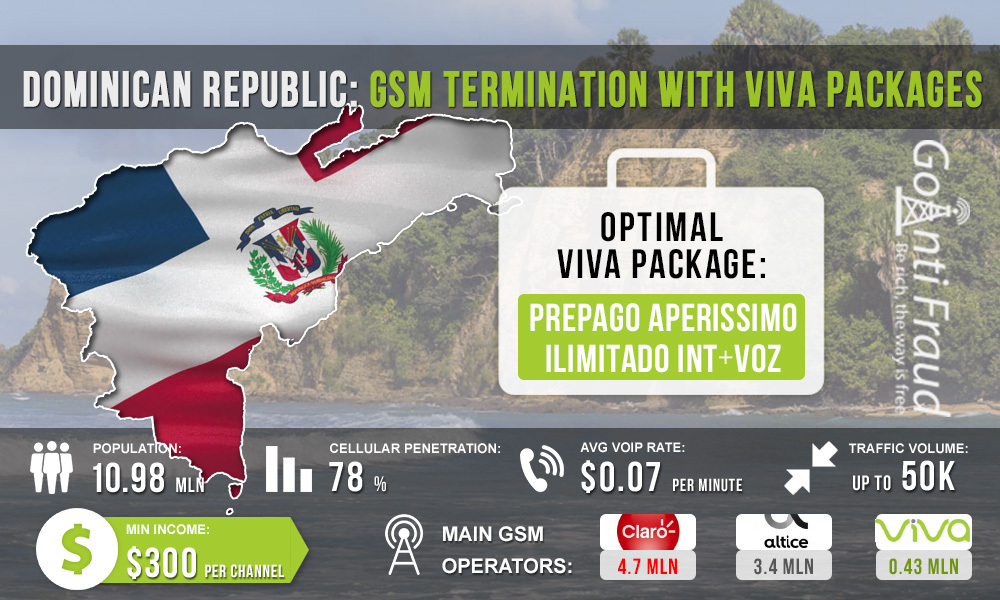 By default, Plan Prepago Aperísimo is connected to Viva's starting package. It provides for per-second billing and the cost of a minute of a call makes up about 12 cents. This is expensive for termination, given that the average rate in the direction of the Dominican Republic is 7 cents. But within the framework of this tariff plan, one can use one of the packages of the Ilimitados 7 Dias range. The best option for earning on termination using the voip software pc is Ilimitados 7 Dias Internet + Voz. To activate the package, you need to pay $3.56. As a result, you get unlimited calls and mobile Internet.
If the gate is running for 5 hours a day, the minute of call will cost you only $0.01. With Ilimitados 7 Dias Internet + Voz you will earn about $300 (from each equipment channel).