The Dominican Republic is a good choice for entrepreneurs who plan to make money on voice termination. There is a lot of international traffic there, caused by both, development of tourism and immigrants. The mobile market has become a preferred platform for local subscribers, due to the poor state of fixed-line infrastructure. All we have to do now is to find out how easy is it to connect a stable Internet in the Dominican Republic.
At the moment, Internet connectivity in the country reaches 64% (which is about 7 million connections). The average Internet speed in the Dominican Republic is 4.4 Mbps. This is a normal indicator, as far as termination is concerned. To ensure uninterrupted operation of gsm gateway router equipment, a speed of at least 2 Mbps is required, although the best option would be 5 Mbps. However, it is possible to connect a higher speed Internet (up to 200 Mbps) in the Dominican Republic. It all depends on how much traffic you plan to land and how many channels will operate in each location.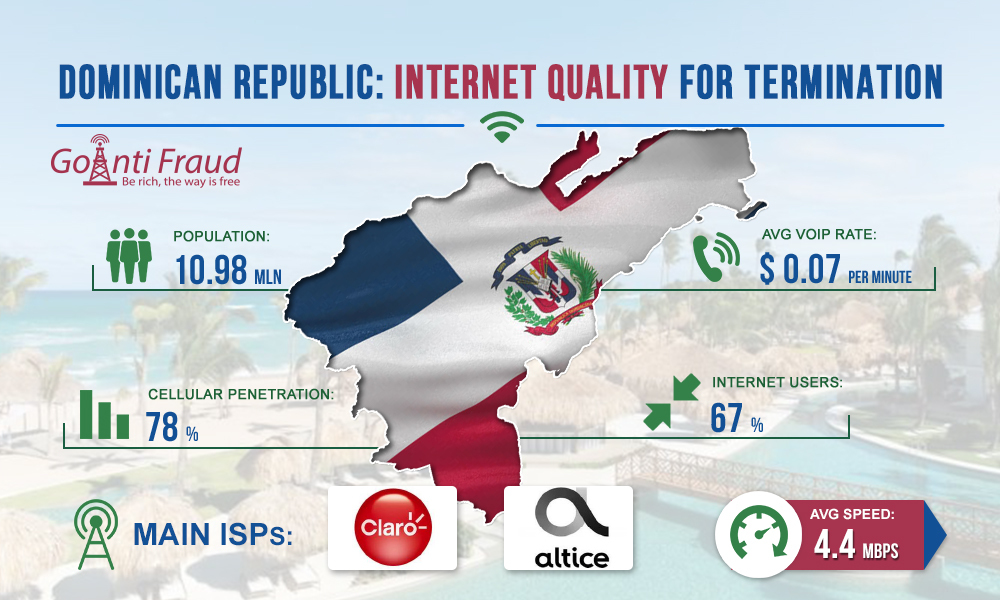 The main Internet providers in the Dominican Republic are Claro and Altice. These Internet service providers are the mobile network operators as well. Since the providers that simultaneously operate as the GSM operators can trace your Internet traffic, we recommend using software solutions to mask your activity in the Global Network. For these purposes, the GoAntiFraud's SBO Traffic Optimization Module would be suitable. It provides for the Internet data compression by a factor 3 and allows hiding them from the provider - so, the service provider will think that you watch movies, listen to music, etc.