Lesotho is an African country with a population of 2.292 million people, where large flows of international traffic are constantly concentrated. Many residents of the country work in South Africa and respectively, make calls abroad, and their relatives receive calls in Lesotho. The cellular services market is well developed - the mobile penetration has reached 96% (more than 2.18 million connections). With a competent approach to running the voice termination business, you can earn at least $250 from each gateway channel there.
A distinctive feature of the mobile sector in Lesotho is the duopoly between Vodacom and Econet. The former is far ahead of the latter - more than 1.4 million subscribers use Vodacom services. Despite the presence of two market players, competition is not sufficient to effectively reduce the tariffs for the consumer. Cellular penetration has reached 96%, this is an average for the region.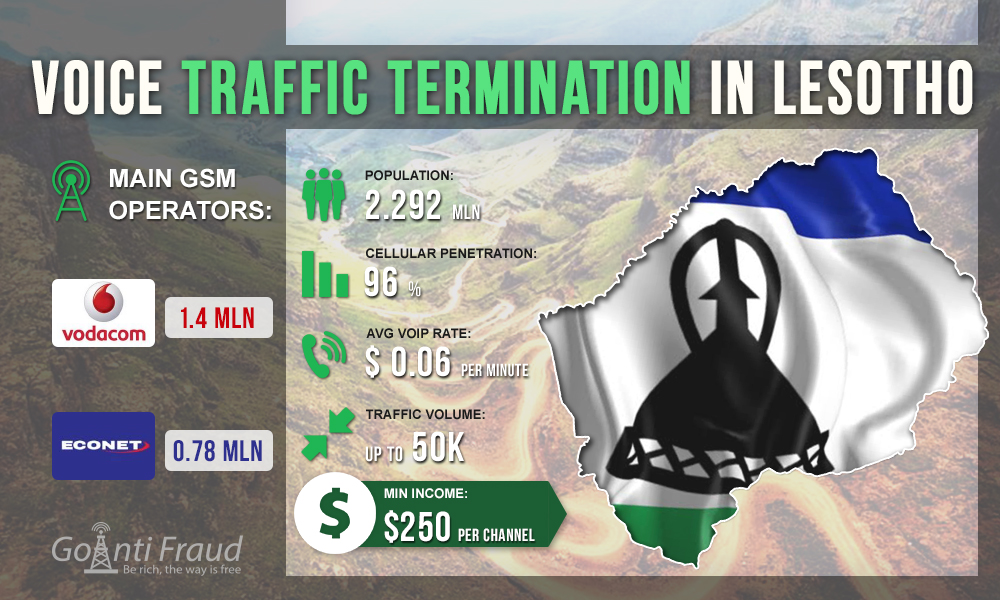 The good news for terminators is that Lesotho remains one of several African countries where there is no law on mandatory registration of SIM cards. Although the government is considering introducing registration for prepaid SIM cards, at the moment, they can be bought without presenting any documents. You can purchase any number of starting packages you need for termination. The price of one SIM-card in Lesotho is about two dollars. Local calls cost about 12 cents per minute, but when using package offers, you can call at $0.01 per minute.
In the world voip rates list, Lesotho does not rank the highest. The average rate for this direction is $0.06 per minute of conversation. Nevertheless, with the gateway operating for several hours a day, your earnings will be at least $250 from a channel.