Vodacom is the main cellular service provider in Lesotho. The company belongs to the British company Vodafone. The operator's services are used by about ¾ of all subscribers in the country and it has the best GSM coverage. Termination of traffic with Vodacom SIM-cards can bring you high profit if you locate the gateways in Lesotho. But first you need to choose the most profitable tariff plan for work.
Vodacom 's SIM-cards are sold in the brand stores and other outlets and do not require registration. When you buy a prepaid starting plan, you do not need to present personal identification documents. The cost of one starting plan is about $2.
Vodacom Lesotho has 3 prepaid tariff plans:
Prepaid per Second.
Prepaid AnyTime.
Prepaid Bua.
By default, the card is activated with a per second tariff plan (Prepaid per Second). The cost of a minute of a call with it will be $0.09 during rush hours (daytime). You can switch to other tariff plans for free. AnyTime Prepaid provides per-second billing and a $0.12calling rate during the whole day. With Prepaid Bua you get per minute billing and the ability to call to any operator numbers at $0.08 per minute.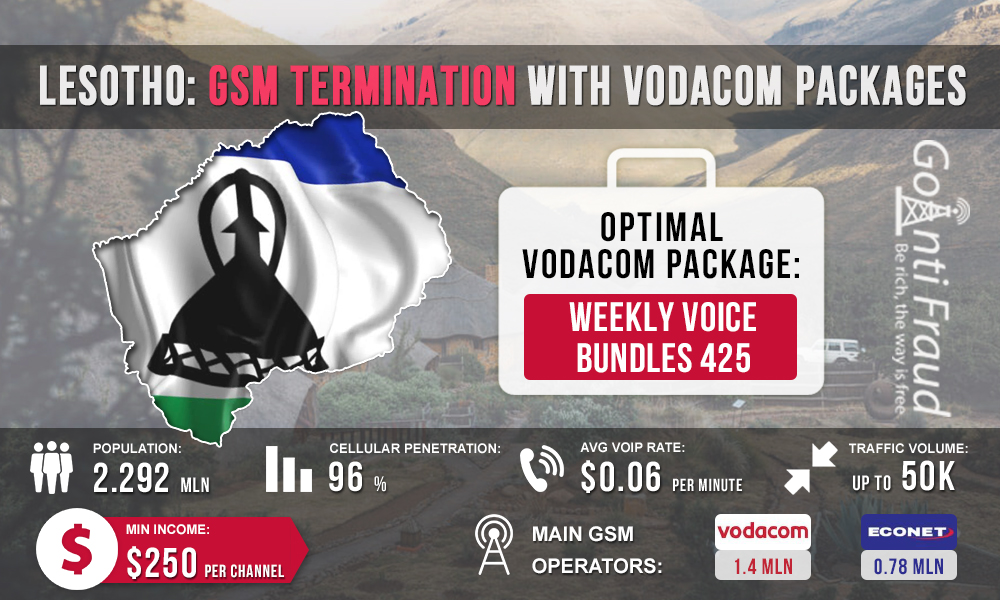 Standard prepaid tariffs are not suitable for termination in Lesotho, because the average voip call rates in this direction are about $0.06 per minute of conversation. But there are better deals - for example, Voice Bundles line. It includes several options:
Daily Bundles. There are packages for 25 and 70 minutes, the cost is $0.4 and $0.7 respectively. Duration - 24 hours.
Weekly Bundles. There are packages for 75, 170 and 425 minutes, the cost is $1.4, $2.45, $3.85 respectively.
The best choice for the terminator is Voice Weekly Bundles 425. With this package, your minimum earnings can amount to $250 from one gateway port.