Lesotho can become a profitable direction for earning on termination, because there is a high rate and a fairly developed mobile communications sector there. Thanks to emigrants, a lot of international voice traffic is concentrated there. For successful work in the field of termination, there is one more important condition to be met - stable Internet with sufficient speed. Is it possible to connect the Internet in Lesotho, which would meet these requirements?
Despite the low level of the fixed-line sector development, the country has a fairly good Internet services market. In 2007, DSL networks were launched there. In parallel, the privatized national company ETL (operating under the Econet brand) has established a fixed wireless network. The second Internet service provider who is also a GSM operator in Lesotho is Vodacom. The company became the first in the market to deploy LTE networks, complemented by a WiMax network.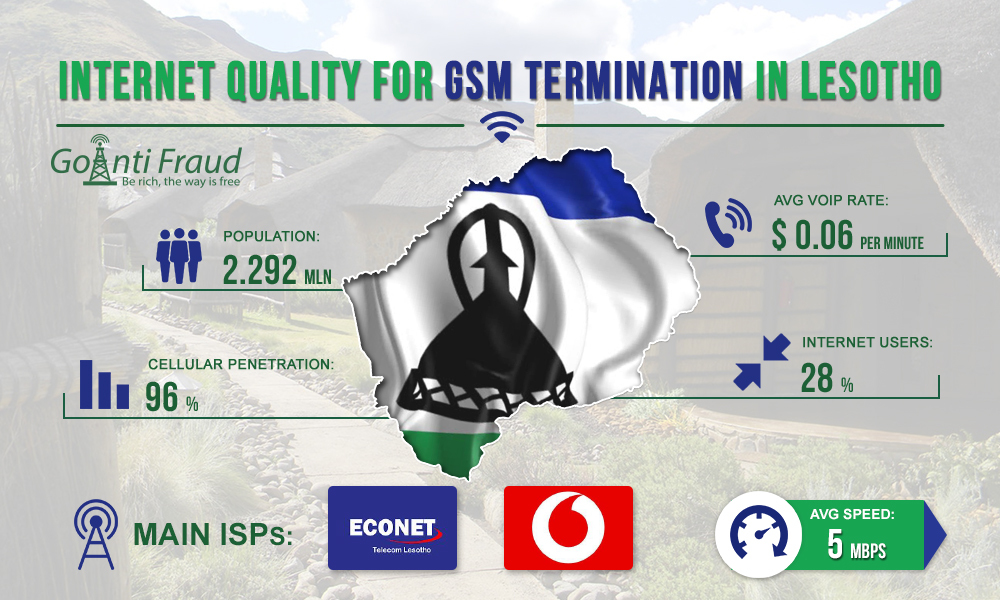 Lesotho is a landlocked country, but enjoys the advantages of connecting to underwater fiber optic cables on the east and west coast of the African continent. Due to this, international bandwidth has significantly improved in recent years, while the prices for broadband access remain quite high. As a result, Internet penetration in Lesotho is only 28% (about 627.9 thousand connections).
The average Internet speed achievable in the country is 5 Mbps. This is a good indicator - this speed is sufficient for a successful landing of voice traffic data using low-channel equipment. If you plan to work with large volumes of minutes - you can choose one of the offers of local Internet providers that offer higher speeds.