The Internet service sector is actively developing in Lesotho. Broadband access is represented by DSL, WiMAX networks and fiber. Although the country is landlocked, it is connected to international fiber optic cables located on the west and east coasts. How much will it cost to connect high-quality Internet for GSM termination in Lesotho?
There are two main Internet service providers in Lesotho - Econet and Vodacom. Both of them provide cellular services in parallel. Econet is a brand of Econet Telecom Lesotho, which was previously state owned. This provider provides Internet access using several technologies - ADSL, Fiber-Optic, LTE, Wi-Fi. The best solution for operation in the field of termination will be fiber-optic Internet, but DSL with sufficient speed is also suitable.
Econet has a 24 MONTHS CONTRACT PACKAGES line. It includes a large number of Internet plans that differ in price and data volume. Internet speed is not specified, so before you connect this or that package, ask Econet managers what speed you will get. The minimum Internet speed required for smooth operation of equipment is 5 Mbps.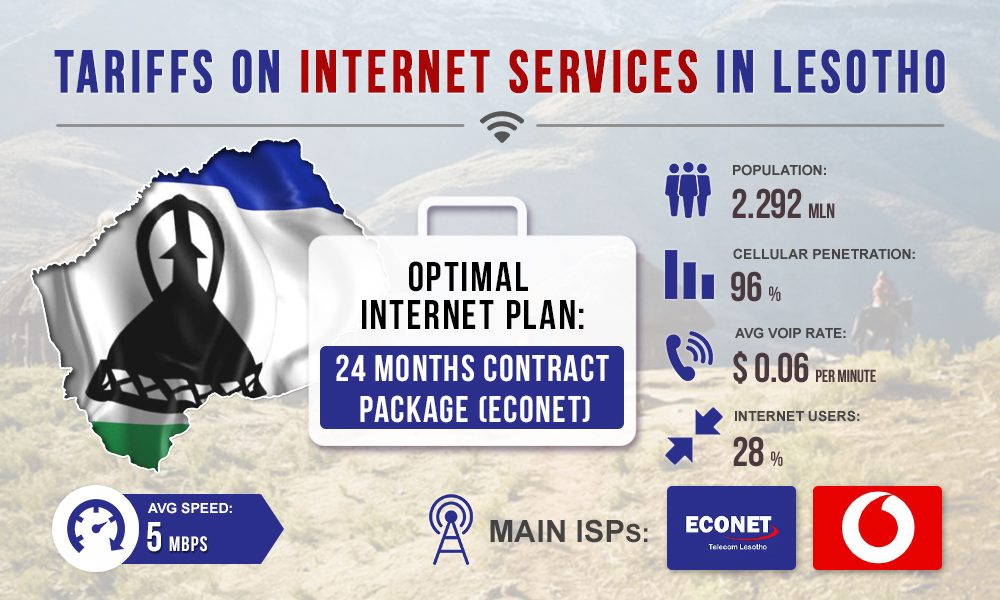 Also, mind the amount of traffic you plan to land; the more minutes - the higher the speed you need. In our opinion, the best choice for termination will be the 24 MONTHS CONTRACT PACKAGE 30 GB Internet plan, if you work with the minimum number of ports in one location. The package provides for data limit of up to 30 GB and costs $45 per month.
Lesotho does not enjoy a very high rate in the mobile voip call rates list, but with the right approach to doing business, including minimizing the Internet expenses, you can make good money there.