Although the penetration of the Internet in Malawi is only 11%, the country has the ability to connect WiMax, DSL or Fiber-Optic Internet. All these technologies are capable of providing a stable Internet connection. The average Internet speed in the country is 1.3 Mbps, but in large settlements it is possible to connect a higher speed Internet. To run a profitable VoIP GSM termination business, it is important to minimize costs, including Internet connection costs.
There are about 50 Internet service providers in the Malawi market. The most popular Internet providers in the country are MTL and Globe Internet. Let's discuss the access to the Global Network using their example.
MTL's, Internet connection offer for private customers is called MINET. The provider notes that the Internet is provided based on DSL and WiMAX technologies and ensures high speeds, but without specifying what speeds exactly. Check it with them before connecting to MTL. The MINET line includes several packages designed for a period from one hour to one month. For termination, we need the Internet with a monthly payment. Such Internet plan is called 10 GB DHILU, it provides for a data limit of 10 gigabytes and costs $25.5 per month.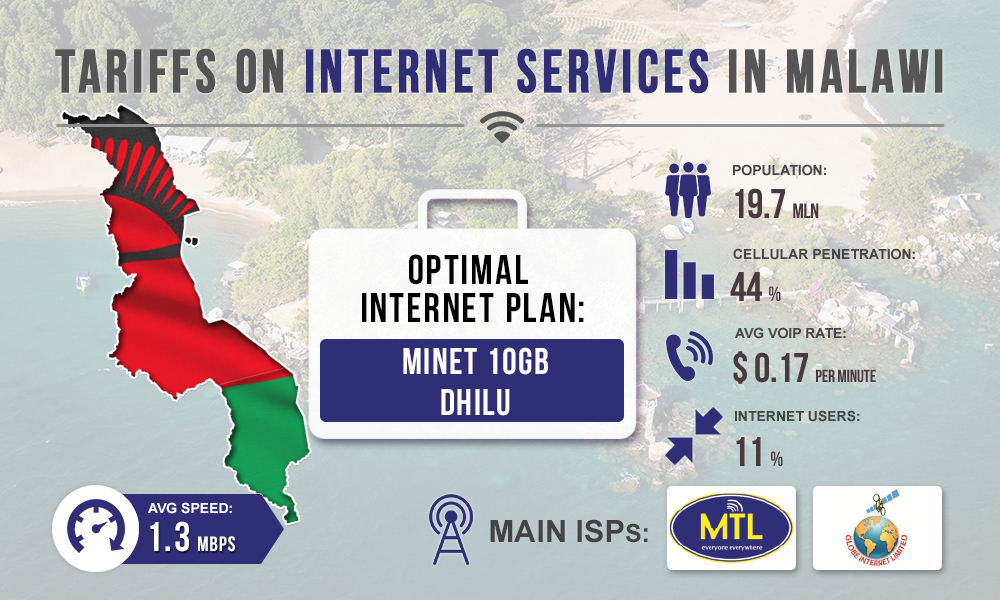 Globe Internet offers their customers high-speed broadband Internet based on 4G technology. There are several options for packages with monthly payment:
HOME. Data limit - 15 GB. Cost - $32.
HOME PLUS. Data limit - 20 GB. Cost - $36.5.
HOME PLUS PREMIUM. Data limit - 25 GB. Cost - $49.
FREEDOM. The data limit is 12 GB during the day and 25 GB at night. Cost - $47.8.
FREEDOM PLUS.The data limit is 12 GB during the day, unlimited at night. Cost - $73.
Again, the provider does not mention specific speeds, only indicates that the Internet is high-speed. Therefore, check this information in advance. For uninterrupted voip server hardware operation in terms of quality and cost, an Internet plan of 10 GB DHILU from an MTL provider is best suited. But we recommend focusing on the volume of traffic that you plan to land.