Internet penetration in Guinea-Bissau is very low - 7.8%, which is only 150 thousand connections. Connecting a good Internet is possible only in the capital of the country - Bissau, in other cities and villages access to the Global Network is very limited. Consider this nuance when installing GSM gateways and estimate your approximate costs as well. For high profits on voice traffic landing, it is important to minimize any costs in doing business.
The major Internet services provided in Guinea-Bissau is Orange. At the same time, it is also a cellular operator. Using it as an example, let's dwell upon the rates for connection and the use of Internet connection. Orange has two offers - FlyBox and Orange Internet Casa. The first offer provides for 4G Internet, but this is not the best solution for traffic termination. Such Internet is usually unstable, while signal stability is very important for making money on calls landing. Communication breaks will lead to short and zero calls (the ones with short duration or even unsuccessful) and your profits will be lost.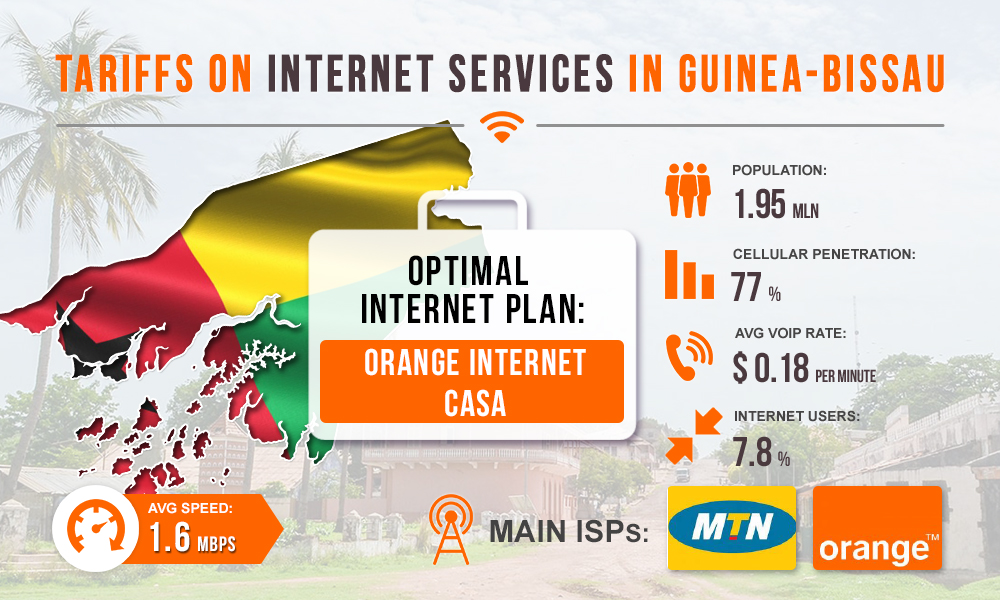 Orange Internet Casa is a better offer in terms of signal stability. This is the Internet using Proxim technology; the service provider refers to this Internet connection as to a high-speed one. In fact, the speed is low - only 256 Mbps. Connecting Orange Internet Casa will cost you about $130, the monthly fee is $42. It's inexpensive, but such a low Internet connection speed is only suitable if your premium voip minutes reseller delivers you very little traffic. But in general, the speed should be at least 2 Mbps. Therefore, starting a termination business in Guinea-Bissau will be difficult, but you can look for offers to connect to a faster Internet from other operators.