Central African Republic significantly lags behind in the development of telecommunications compared with Europe. Nevertheless, the mobile sector is developing well enough - four cellular operators compete in the market. With the rate being high enough (12 cents per minute), you can make good money in the country by calls termination. However, is the Internet in the Central African Republic suitable for stable operation of VoIP equipment?
The fixed-line market is characterized by monopoly of the state-owned operator, which negatively affects the Internet services sector. Broadband penetration is only 5.4%, which is approximately 256.4 thousand connections. Access to the Global Network is mainly available in the capital of the Central African Republic, Bangui. Access in the rest of the territory is very limited. It is important to take into account this fact by those entrepreneurs who plan to place gateways for termination in this country. The main Internet providers are Telecel, Orange, which also provide cellular services. Therefore, think in advance how you will mask the voice traffic from the provider.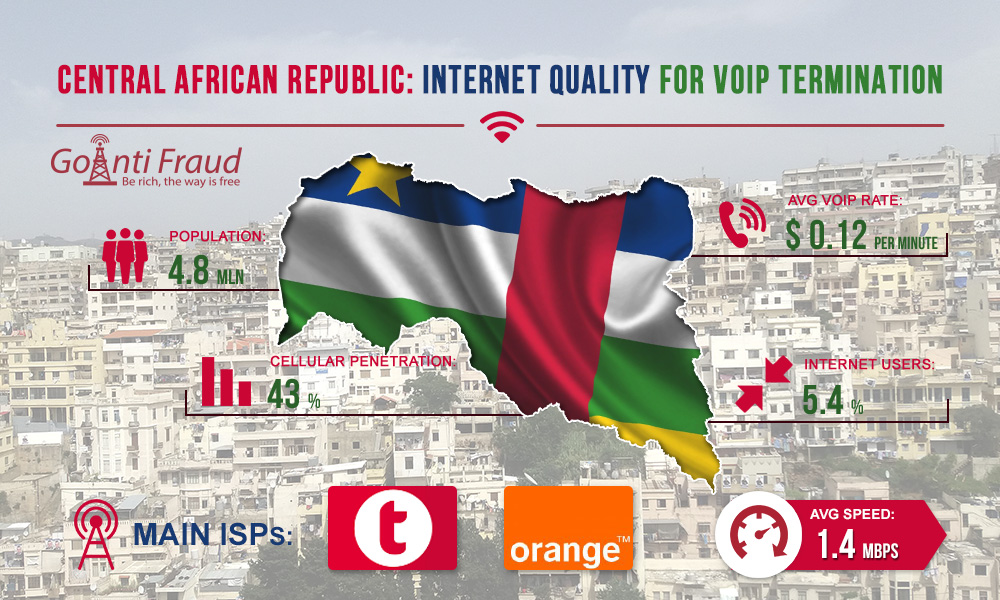 An average Internet Bandwidth in Central African Republic is 1.4 Mbps. This is not enough for the stable operation of GSM equipment, but in the capital you can connect to the Internet at a speed of 2 Mbps and higher. For the smooth operation of the gsm gateway card, the minimum Internet speed should be at least 2 Mbps, but the optimal speed is 5 Mbps. Of course, it all depends on the amount of traffic that your originator will supply to you.