The market for Internet services in the Central African Republic is underdeveloped, due to the poor state of the fixed-line communications sector and the monopoly of the state operator in this sector. To-date, the Internet penetration is 5.4% (about 256.4 million connections). Perhaps, the Internet access at a satisfactory speed is only possible in Bangui, the capital of the country. In other settlements, coverage is either poor or not available at all. All we have to learn more is how much it will cost to connect to the Global Network to earn money on termination in the Central African Republic.
The main Internet providers in the country are Telecel and Orange, which simultaneously provide cellular services. In this regard, the terminators are advised to hide their activity in the Internet, because the activities of GSM gateway owners are not beneficial for mobile operators, and they can track their Internet traffic. Telecel has several offers for connecting home Internet at a speed of 1 Mbps or more, but the provider's website does not have pricing information. Therefore, let's discuss the pricing policy for Internet services in the country on the example of Orange.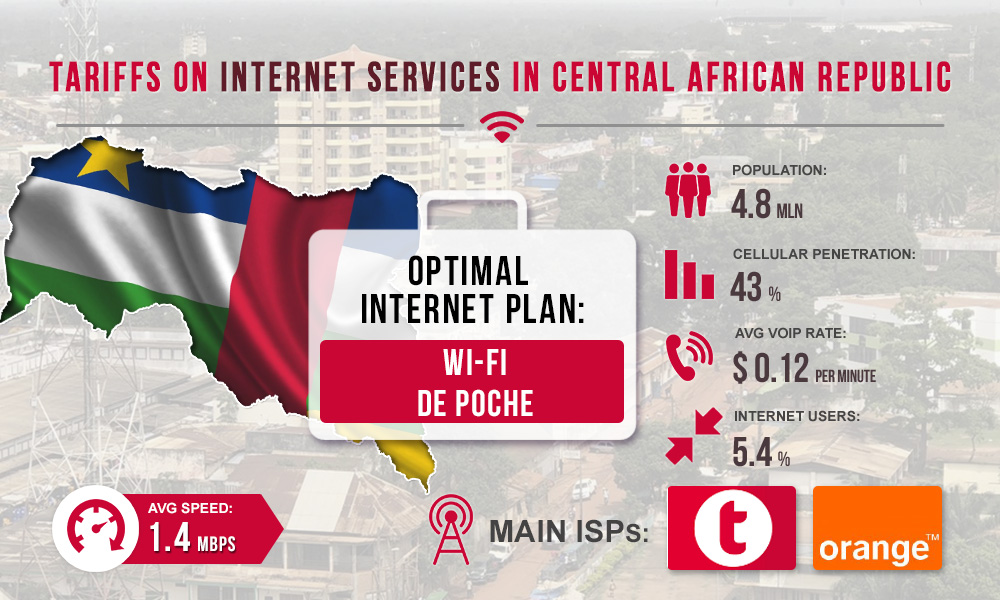 The provider offers three options for connecting high-speed Internet:
Wi-Fi de Poche. Wi-Fi connection, which provides for connection of up to five devices to one router. Subscription fee — $75.
Wi-Fi Dock. Internet connection is made based on 3G technology, the price is $ 35.
Fly Box. This offer also includes the use of 3G technology. The client can connect to high-speed Internet for $101 and get 1 GB of Internet traffic for 30 days. Then he will be able to choose the most suitable option for himself from 3 packages: Intense (price - $ 75, data limit - 27 GB), Intense + (price - $ 124, data limit - 50 GB), Max (price - $ 219, data limit - 100 GB).
Since 3G Internet is not suitable for termination due to signal instability, Wi-Fi de Poche will be the best solution for operation of gsm gateway pc. But the Orange website does not specify what speed of Internet connection can be expected. Clarify this point before you install gateways in the Central African Republic.