The Comoros islands, or Comoros, is a state in East Africa with a population of about 0.852 million. The average rate for Comoros is $0.14 per minute of conversation. For the account of inexpensive mobile communications within the country, theoretically, you can earn at least $200 from each channel of the GSM gateway. We found out what is the amount of traffic that the originators supply in this direction and how much do the SIM cards cost in the Comoros.
At the moment, mobile penetration in the Comoros makes up 51% (about 433 thousand connections). A small population, not too developed tourism sector, low emigration rate - all this has contributed to the fact that the country does not have too much international voice traffic. In this area, traffic providers deliver an average of 15 thousand minutes per day.
There are two competing GSM operators in the cellular market: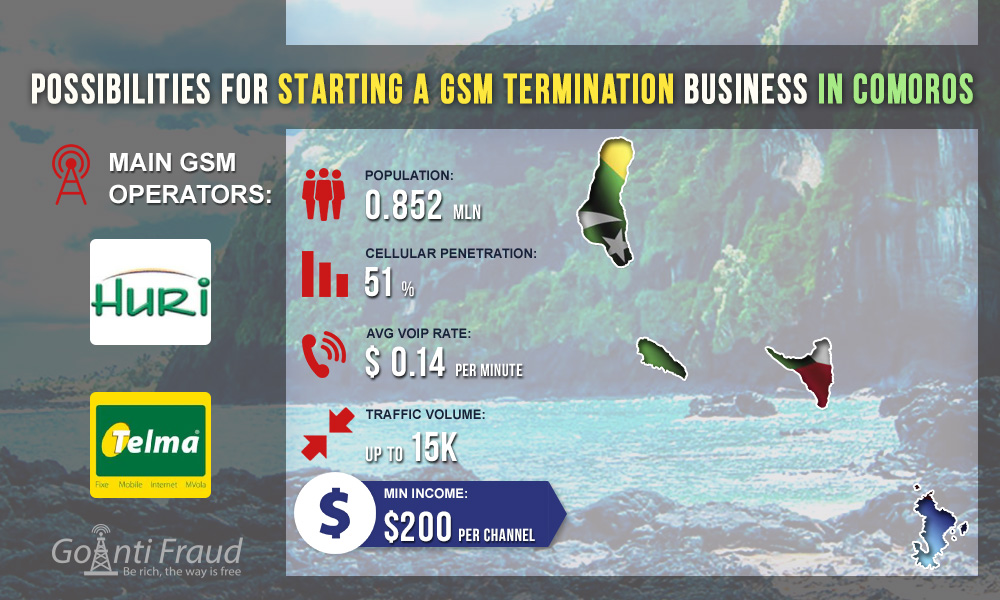 Previously, Huri was a monopolist in the market, which negatively affected pricing policy and the development of the mobile sector in general. At the moment, due to competition, Comoros have fairly low rates for local calls. Special offers from local operators allow you to call at as low as $0.009 per minute. At the same time, prepaid SIM cards in Comoros are quite expensive - $4.5 apiece. Moreover, they are delivered without an initial loan.
Despite some difficulties, starting a business in VoIP GSM termination in Comoros is quite realistic. The main thing is to establish cooperation with a traffic provider, who will deliver you enough minutes for stable earnings.