The telecommunications market in Comoros is poorly developed; the Internet access services are mainly available in large cities. The government of this island state is working to improve the situation, however, as of 2019, the Internet penetration is only 20%. There is an opportunity to connect good Internet for traffic termination in this African country, but how much will it cost?
Earlier, the Internet services market was monopolized by the state-owned company Comores Telecom. Recently, another player has emerged in the sector - Telma Comores, which has a positive impact on both, the quality of services and the prices. Let's find out what are the tariffs for connecting the Internet in Comoros on the example of Comores Telecom.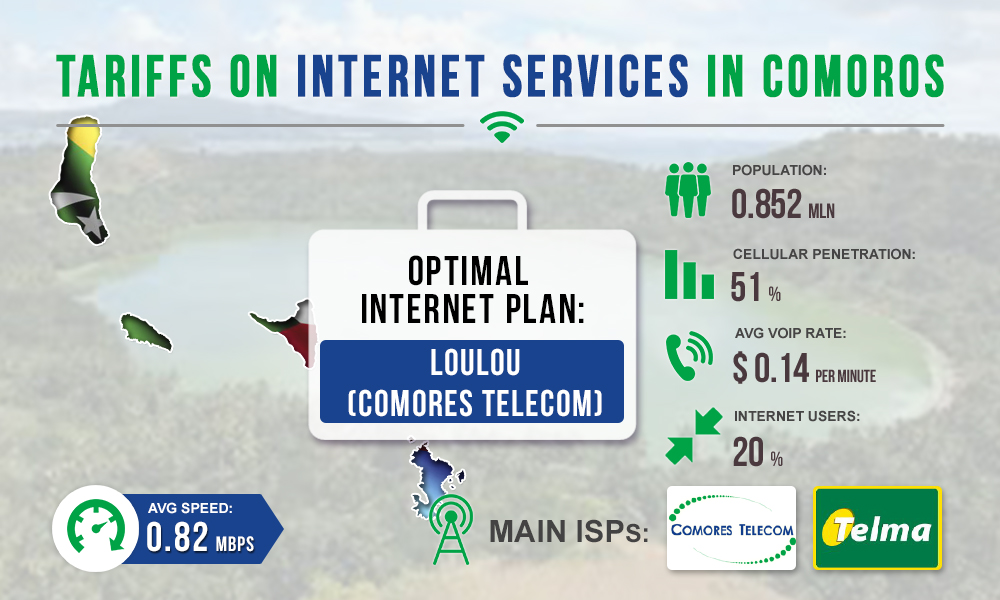 The provider offers several connection options, the one preferred for termination is ADSL (the remaining offers are using LTE technology, which is not able to provide a stable signal). The ADSL range includes several packages:
FEDHA. Data download speed - 512 Kbps. Price per month — $34.
DHAHABOU. Data download speed - 1 Mbps. Price per month — $80.
LOULOU. Data download speed - 2 Mbps. Price per month — $118.4.
ALMASS. Data download speed - 4 Mbps. Price per month — $199.
LOULOU is the best option, because the minimum speed required for the gateway to run without interruptions in communication is 2 Mbps. The price of $118 is pretty high, but given the earning of $200 and more per channel in Comoros, it is quite acceptable. However, if you plan to land a large number of voice trading minutes (voip) in international markets using multi-channel equipment in one location, you will need an Internet plan with a higher speed. Then the best solution would be ALMASS package from Comores Telecom.