Eritrea is a state in East Africa with a population of more than 5.3 million people. Tourism is quite well developed in the country - Asmara, the capital, is considered one of the safest African capitals. People come here for a beach holiday, for safari tours and to look at sunken ships and coral reefs at local diving centers. This helps generating a lot of international voice traffic, which, in theory, opens up good opportunities for earning on termination. Nevertheless, let's take a closer look at the prospects for starting a business in Eritrea.
The state of Eritrea was the last in the world connected to mobile networks. There is only one mobile service provider in the country - Eritel. Monopoly negatively affects both market development and pricing policy. However, mobile penetration has reached 96% in 2019 (approximately 5.1 million connections). The local telecommunications market still needs investments to improve the quality of services. The government has launched a program to achieve this goal, aimed at expanding coverage in remote areas and improving communication quality.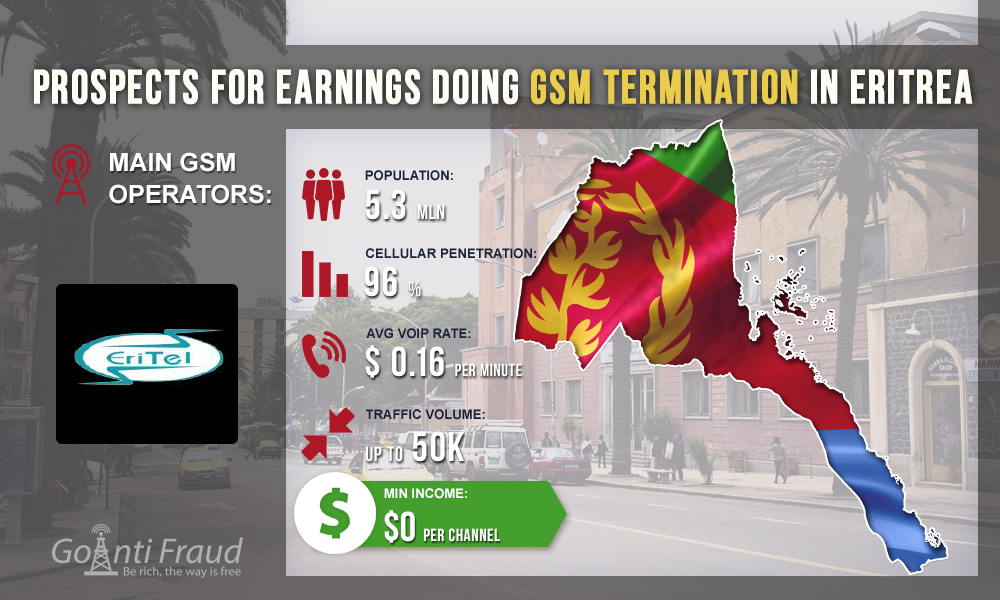 In Eritrea, a minute of call costs 10 cents, which is quite suitable for the terminator, with mobile voip rates eritrea about 16 cents per minute of conversation. But as far as prepaid SIM cards concern, this is where the problems begin. One starting plan costs $42 for a foreigner, for local residents it is not much cheaper - $36.7. Moreover, it is difficult for foreigners to buy SIM cards, they must have a residence permit for this. But even if you are a resident of Eritrea or if you find a provider of prepaid SIM cards, the cards will still cost you a lot.
Let's make a conclusion: unfortunately, starting a voice termination business in Eritrea is unprofitable. But there are many other directions where you can earn big money. GoAntiFraud specialists will tell you which country provides an opportunity of getting high profit. Leave your application to get a professional advice.