The population of Jamaica is more than 2.9 million people. Among the country's main sources of income are services for tourists (20% of total GDP) and cash transfers from citizens working abroad (20% of GDP). Due to this, large volumes of international voice traffic come here every day and you can make good money on it. Termination of VoIP traffic in Jamaica can bring at least $400 from each equipment channel.
The Jamaican telecommunications market is mainly supported by the mobile communications sector. The mobile penetration is 112% (about 3.24 million connections). There are two GSM operators on the island - Digicel and Flow. GSM coverage is available for about 90% of the territory. To increase competition, the local government tried to develop MVNO sector, but the attempt failed. In 2017, an operator operating under Caricel brand also emerged in the market, but its license is likely to be revoked.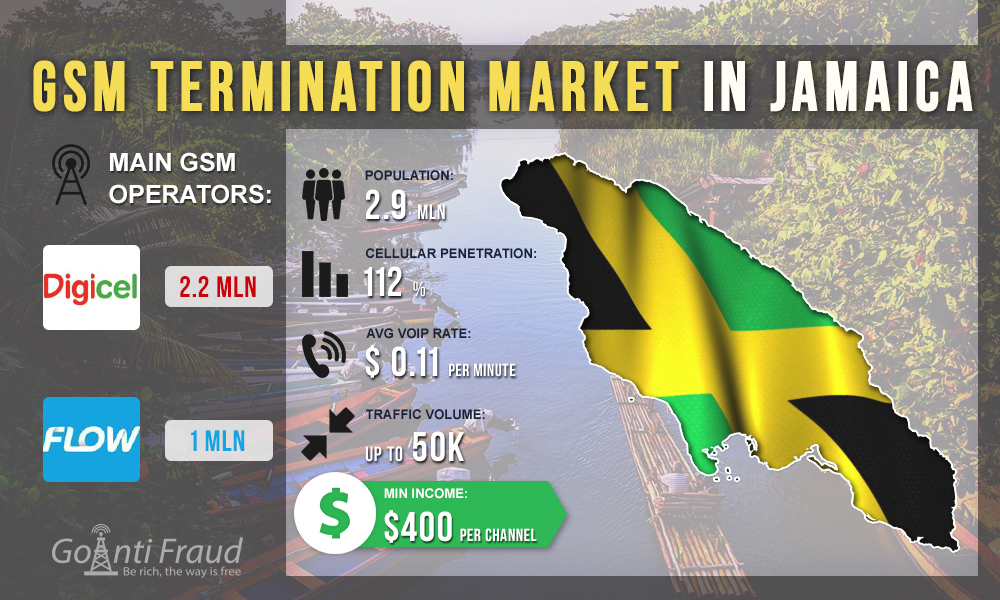 The cost of a SIM card is in the range of $3.7- $5.4. Mobile communication is cheap in Jamaica - you can connect an unlimited package with a minute of call costing up to $ 0.004. Thus, the gateway owner can make 400 dollars and more from each gateway. The more traffic you land, the higher is your income. To ensure stable operation and high profits, it is important to protect SIM cards from frequent blocking, ensure a reliable Internet connection and check traffic for "purity". For this, you can use professional software from GoAntiFraud and voip recording hardware.