Jamaica is a good place to start a business in the niche of voice termination, given the high rate in this area, the developed mobile sector in the country, a high percentage of emigrants, and a large number of tourists. Here you can make a profit of at least $400 from each equipment port, if you connect a stable Internet with sufficient speed. Let us examine how much will it cost for the terminator to use high speed Internet in Jamaica.
At the moment, Internet connectivity in the country reaches 54% (which is about 1.58 million users). The figure is not too big, however, it is quite possible to connect good Internet in almost any city on the island. Although most of the connections are made via mobile Internet, there is an opportunity to use the services of access to the Global Network using ADSL, Fiber-Optic technologies. The two most popular ISPs on the island are Digicel and Flow, which in parallel provide mobile services. Let's consider the tariffs for Internet services using the example of the market leader Digicel.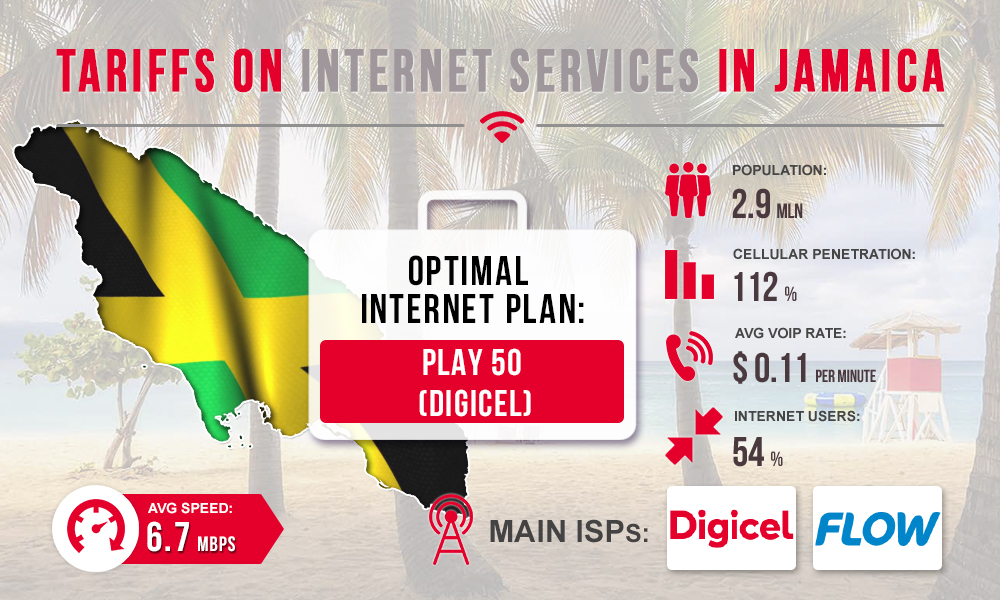 At Digicel has Fiber Internet line, which includes several packages:
Play 50. Speed — up do 50 Mbps. Price per month — $39.6.
Play 100. Speed — up do 100 Mbps. Price per month — $82.
Play 200. Speed — up do 200 Mbps. Price per month — $104.6.
Play 400. Speed — up do 400 Mbps. Price per month — $138.
We recommend choosing Digicel's Play 50 Internet plan for operation of your neogate gsm gateway or other GSM equipment. If you earn $400 and more per channel, monthly expenses of about $40 will not become burdensome. At the same time, the Internet connected using fiber-optic technology is considered to be the most stable, which means that you will not encounter the problem of constant disconnections during the operation of termination equipment.