Belize is a small country in Central America with a population of more than 390 thousand people. The main source of state revenue is tourism, so a lot of international voice traffic flows here. There is a high rate in this direction, about 12 cents per minute of conversation, so the terminator's earnings can be large, provided that he or she chooses a favorable tariff plan for calls. The minimum profit in Belize is $100 from each equipment channel.
Currently, mobile penetration in the country is 101% (0.39 million connections). This indicator is below the regional average, which is mainly due to insufficient competition in the local market and a shortage of investment in telecommunications infrastructure in the past.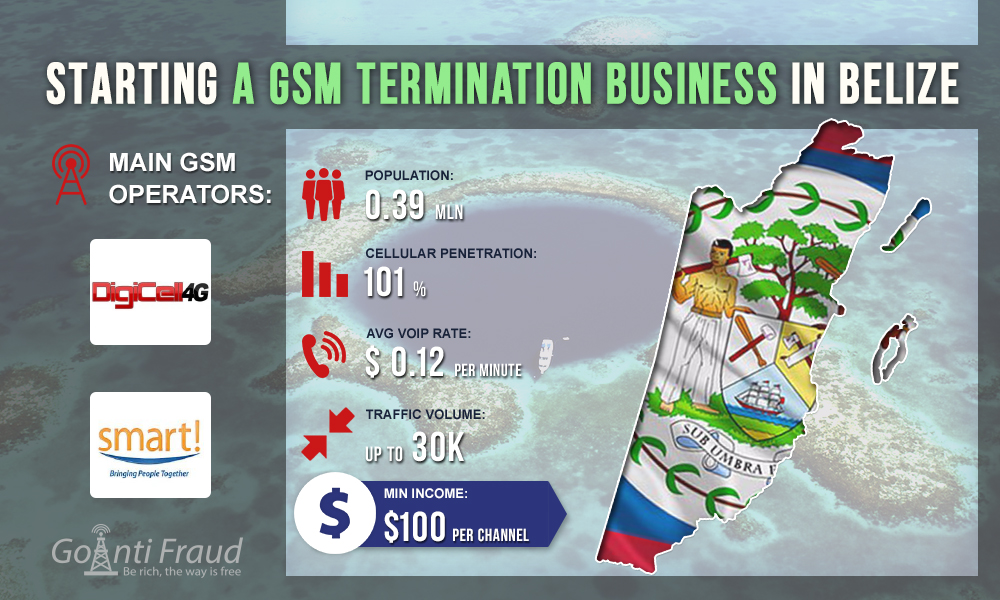 The leader in the mobile market in Belize is DigiCell (Digi). The second mobile service provider is SMART! In 2013, the country's government introduced a mandatory registration procedure for prepaid SIM cards. Therefore, when buying starting plan, they ask to produce your documents. We recommend that you find a stable source of a large number of prepaid SIM cards before placing your gateways in Belize.
The cost of one starting plan is high - $10, but you get an initial loan of $5. Standard tariffs for calls in Belize are also rather high - $0.23 per minute (for calls within the network) and $0.25 per minute (for calls to other networks). But you can choose a profitable package with bonus minutes from Digi or Smart, which will allow you to earn as a minimum $100 from one trex gsm gateway kit port or other VoIP equipment.