The low rate to Colombia is compensated by a well-developed mobile communications market with a high level of competition, which stimulates low prices for services. The country has a large population, which provides large flows of voice traffic. However, to make money on termination you also need a stable Internet with high speed. Let's find out if you can connect this in Colombia.
The country's telecommunications infrastructure is well developed in large cities of the country, but remains weak in small towns and villages. The state stimulated competition in the market, therefore, there are many mobile service providers in the market (5 GSM operators and 2 MVNOs). The largest mobile operators (Claro, Movistar) simultaneously provide broadband Internet access services.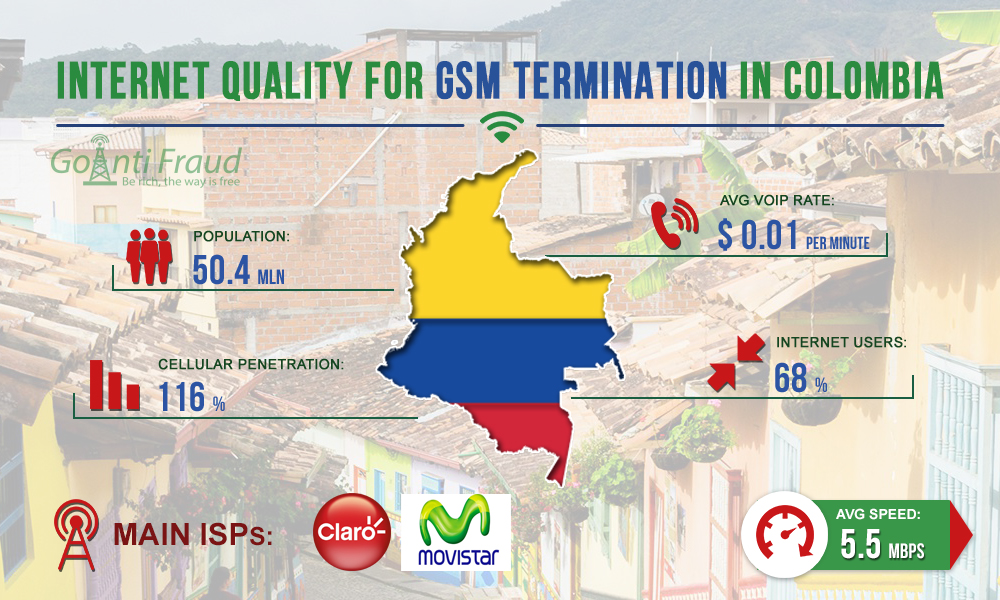 At the moment, the broadband Internet penetration constitutes 68% (approximately 34 million connections). The LTE services sector is best developed, but the broadband market is also booming. DSL connection is the most popular in the country, but the fiber segment also shows significant growth.
The average Internet speed in Colombia today is 5.5 Mbps. This is a good indicator, because for the smooth operation of equipment and voip call software for pc, a speed of 2-5 Mbps is sufficient. And in fact, in the country in general, you can connect the Internet at a speed of up to 300 Mbps. Thus, the Internet connection in Colombia is perfect for voice traffic termination, even if you work with large volumes of minutes.