Evitas is the only mobile operator in Djibouti that has CDMA and GSM networks. It has good GSM coverage in the country, covering almost the entire territory. To start earning money on voice termination in Djibouti, it is important to choose the most suitable tariff plan for calls.
To get started, you need to buy new SIM cards. The cost of one prepaid starting plan from Evitas is $5.6 and no initial loan is provided. To purchase a SIM card, you will have to present an ID card in the operator's company store. Therefore, the terminator will have to find workarounds for buying Evitas starting plans. The operator provides bonuses for topping up your account.
For prepaid subscribers, there are various package offers. There are two lines that provide bonus minutes for calls, they are COMBO and TEMPO. They differ in the number of minutes provided and in the volume of mobile Internet traffic. COMBO includes the following packages:
Classic. Provides 30 minutes for national calls. Cost - $2.8.
Median. Provides 60 minutes for national calls. Cost - $5.6.
Premium. Provides 120 minutes for national calls. Cost - $11.2.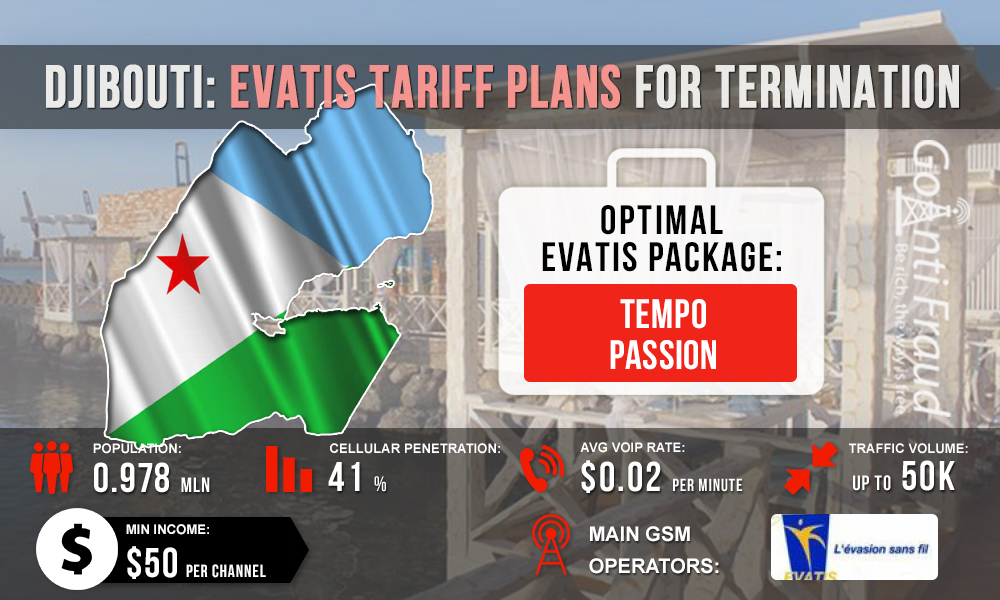 TEMPO has 2 packages suitable for termination:
Passion. The subscriber is provided with 120 minutes for calls from 01.00 am to 07.00 am. Price — $1.13.
Sensation. The subscriber is provided with 60 minutes for calls at any time of the day. Price — $2.8.
Tempo Passion is the optimal solution for working with the SIM cards using gsm gateway for ip pbx. But the cost of the starting plans is very high in Djibouti, so the terminator will find his work unprofitable. At the same time, there is no alternative to the monopolist Evitas in the country.
There are other good destinations for profitable termination, including in Africa. Leave your application, and our managers will help you find out what is a better place to start your business.