European countries have rather low rates, but the volumes of traffic are impressive. Poland is not an exception. With an average rate of $0.01- $0.015 per minute, the local population constitutes 37.8 million. The country is popular as a tourist destination, there are many resorts there. Also, foreigners come here to earn money, in particular from Ukraine. In turn, the Poles immigrate to Western European countries in search of work. All this contributes to the constant generation of international traffic, so Poland can become a promising destination for locating the VoIP GSM gateways.
The telecommunications market in Poland has been liberalized, after which it expanded significantly, especially in the mobile sector. At the moment, cellular penetration has reached 133% (more than 50.5 connections). This is above the average in Europe. There are 4 GSM operators on the market: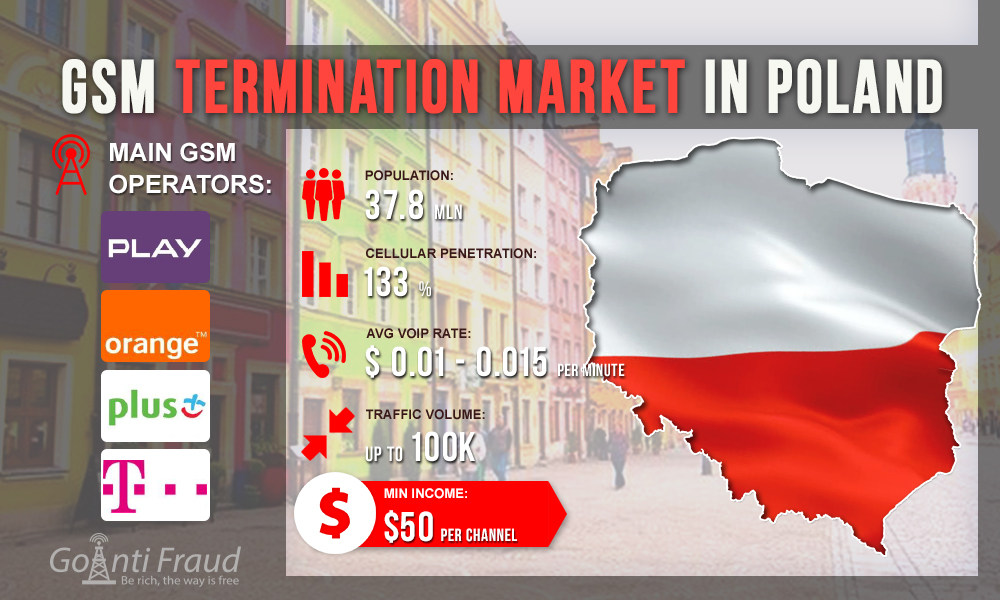 There is effective competition in the mobile sector. Each of the operators owns approximately 25% of the market (give or take). There are also MVNO in Poland and subsidiaries of major GSM operators, they have small market shares. Such competition has led to the fact that the country has one of the lowest rates for calls to the EU. As for GSM coverage, it is good for all mobile service providers, but the market leader Play has the best network quality.
A prepaid SIM card in Poland costs from 5 zł (about $1.3). Due to the low rate, it is very important to choose the most favorable tariff plan for calls. Therefore, terminators often earn money by installing gateways on the border with Belarus, or using packages that make it possible to make profitable calls to Belarus or other countries. But local operators have unlimited offers that allow calling at prices up to $0.009 per minute. With a competent approach, the terminator's earnings in this country can range from $50 from each equipment port.