Orange is the second largest mobile operator in Poland; it owns a little less than 25 percent of the entire subscriber base. Previously, Orange was the leader in the mobile sector, until it was overtaken by competitor Play. GSM coverage of this operator almost completely spans the whole territory of Poland. To use Orange SIM cards for voice termination, you should select the most suitable tariff plan for calls.
Orange offers several options for prepaid starting plans, each of which provides a default tariff plan. The line is called Oferta na Karte. Let us consider the most suitable offers from the termination point of view:
Za darmo w Orange. Price — 5 zloty (about $1.3). The subscriber gets the opportunity to make calls and send SMS within the network for free.
Bez limity do wszystkich. Price — 5 zloty (about $1.3). The tariff plan provides unlimited calls to all networks and unlimited SMS for $7.87 per month.
Zawsze bez limitu po doładowaniu. Price — 5 zloty (about $1.3). The tariff plan provides a bonus in the form of unlimited use for each topping-up of your account balance. Unlimited calls and SMS are provided for a period corresponding to the amount your account balance is topped-up (for example, topping up by 1 zloty = unlimited for 1 day).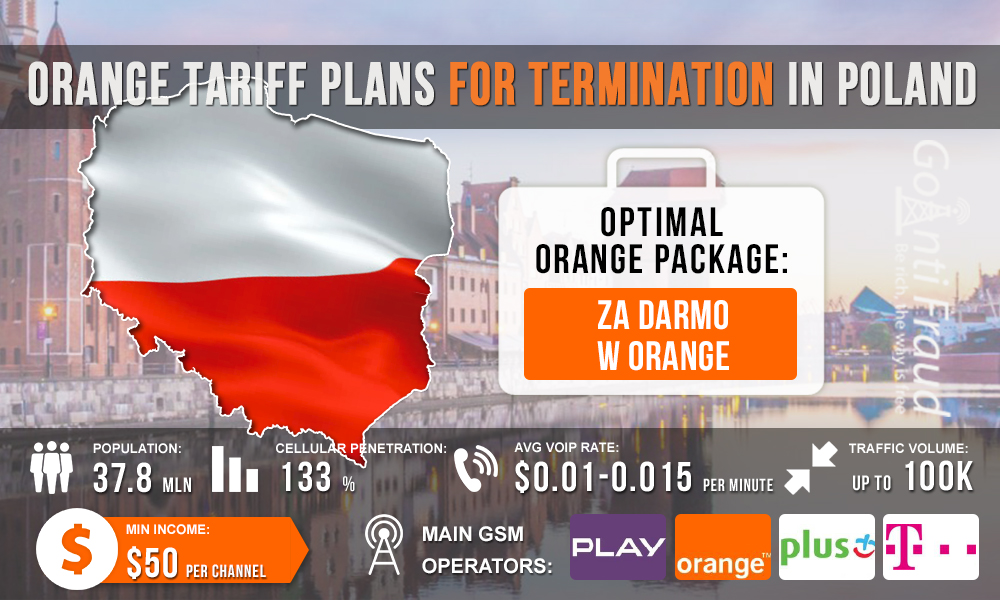 The best option for voip gsm gateway for call termination — Za darmo w Orange. For $1.3 you get unlimited calls within the Orange network. A minute of an outgoing call will cost only $0.003 (when landing 400 minutes a day). The entrepreneur will earn about $50 from one channel of the VoIP GSM gateway.