The Republic of Fiji is a small state in Oceania with a population of 0.89 million. Tourism is an important sector of the country's economy, generating the lion's share of income, which can generate international traffic there. The average rate in this direction is $0.02- $0.07 per minute. Find out what are the opportunities for starting a business in the field of voice traffic termination in Fiji.
The Republic of Fiji has a relatively sophisticated telecommunications infrastructure. The cellular penetration rate is 130% (more than 1.19 million connections), which is the highest rate in Oceania. Two GSM operators operate in the country:
Vodafone is a leader in the local mobile communications market, with a large number of subscribers and the best GSM coverage. Digicel has slightly worse coverage and lower prices than its competitor.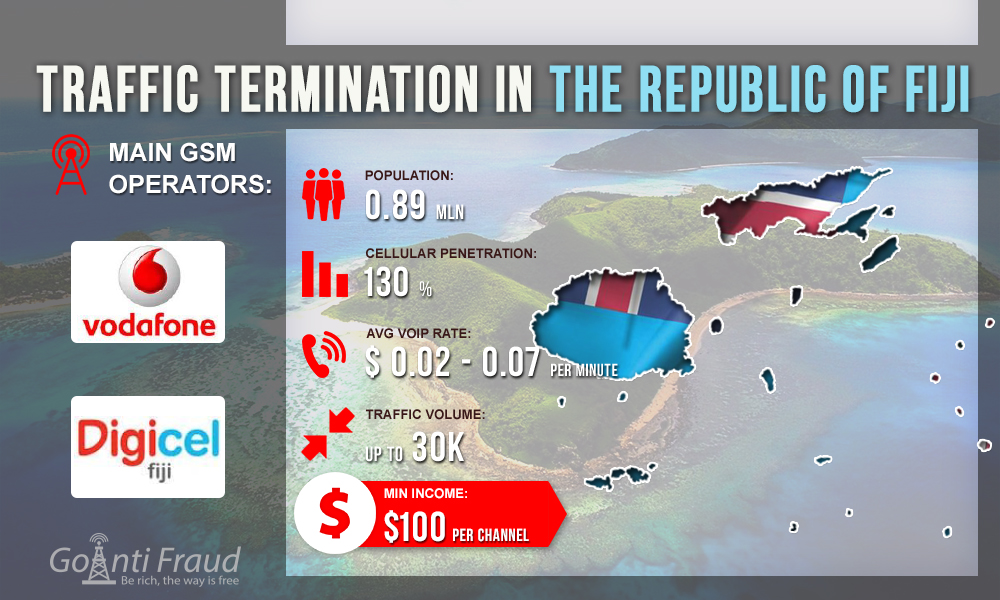 Prepaid SIM cards are sold at the airport, various stores, supermarkets and company retail outlets. Registration of prepaid numbers is mandatory, therefore, we recommend that you establish cooperation with a supplier of a large amount of cards for termination in advance. It is advisable that they be immediately registered with third parties.
Fiji prepaid SIM cards are usually distributed free or at the lowest price. Standard call tariff within the network and to the numbers of other operators is 7 cents per minute. But there are also advantageous unlimited offers, with which the price per minute of a call will be reduced to $0.004. Earnings of the terminator can start at $100 from each port of voip call termination equipment.