In addition to the four major mobile operators, MVNO (virtual providers of cellular services) also operate in Poland. As in the case of traditional operators, they sell starting plans on a prepaid basis and offer various tariff plans for their services. You can successfully use the SIM-cards of virtual operators to terminate traffic in Poland.
The largest MVNO in the country is Lycamobile. To provide services, it uses the network of the operator Plus. Lycamobile SIM cards are distributed free in the company stores and other retail outlets - kiosks, supermarkets and newsstands. Also, the starting plan can be ordered online with delivery to the Polish postal address.
A2mobile is another Polish MVNO that uses the infrastructure of the Plus operator. The operator's starting plans can be ordered online and purchased at some stores in the country. The cost of one SIM-card is 10 zloty (about $ .5), but a welcome bonus for the same amount is immediately transferred to your account balance. Thus, the costs of buying a SIM card are compensated.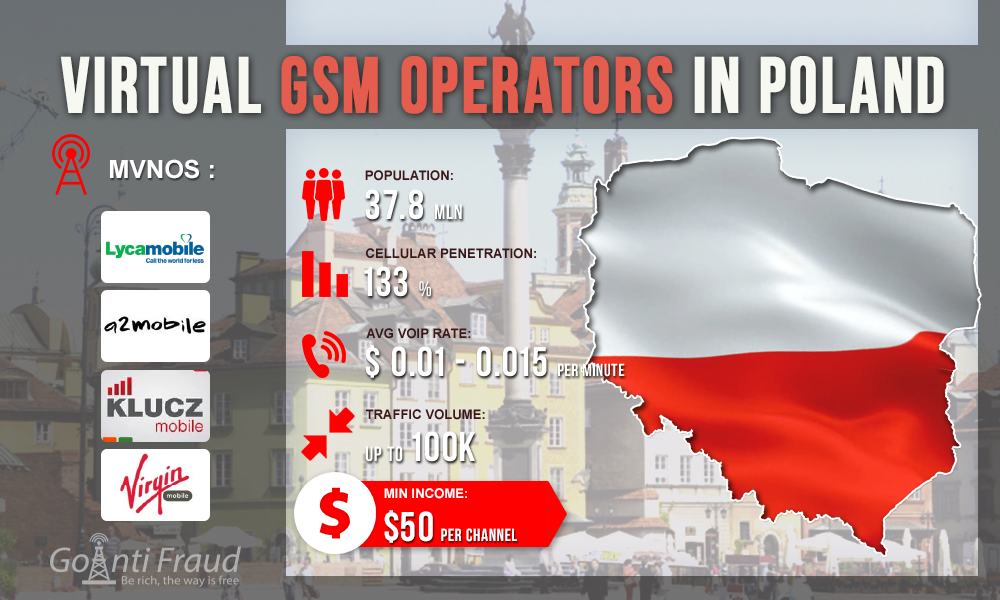 The third virtual GSM operator in Poland is Klucz mobile, which also works in the Plus network. Klucz mobile SIM cards can usually be found only in company stores, where they are provided for free.
And the fourth MVNO in Poland is Virgin Mobile. The operator uses the Play network to provide mobile services. Prepaid SIM cards are available by ordering online and in many retail outlets in the country. The price of the starting plan is 5zł (about $1.3). Moreover, if you buy a card outside a company store, you can buy it without registration. But in this case, it can quickly get blocked, so we recommend that you still find a permanent supplier of SIM cards for voip call termination gateway.
Polish MVNO have many profitable offers for calls, you can choose the best option for termination and get good profit.