Internet penetration in Poland reached 79% (approximately 30.7 million connections in the country). The broadband sector is represented by a variety of technologies, including DSL and fiber. The average Internet connection speed in Poland is 12.6 Mbps, which is an excellent indicator for VoIP termination. Polish Internet is perfect for the operation of GSM gateways and all we have to do is to figure out how much the connection will cost...
The leader of the Internet services market in Poland is Orange. The provider is actively investing in the development of fiber optic infrastructure in the country. The second most popular Internet provider in Poland is Play. Both service providers are also the mobile operators. Let's discuss the tariffs for Internet services in Poland using the example of the market leader Orange.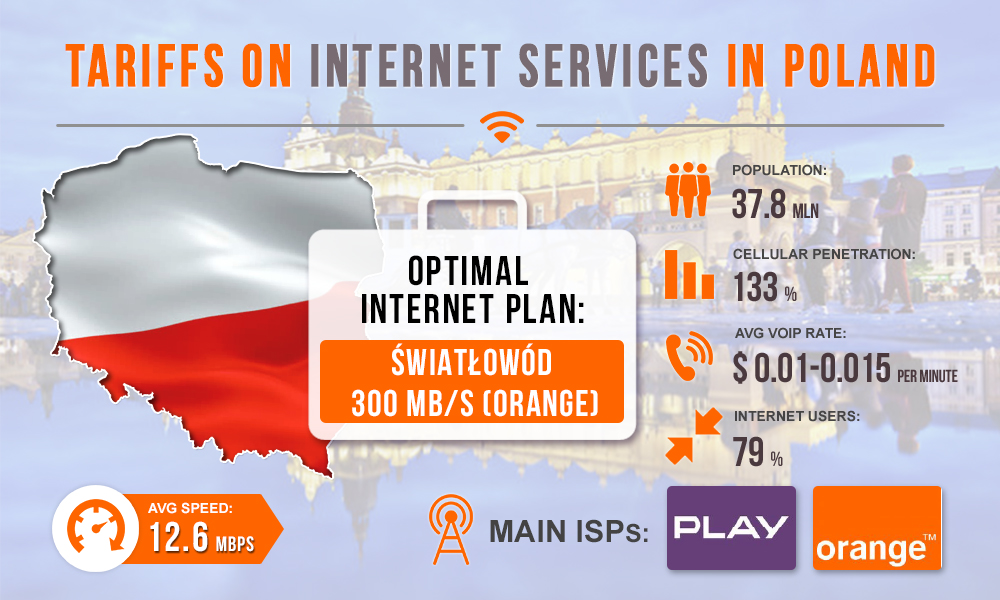 The Internet provider has many package offers that combine Internet connection, television and cellular calls. Such packages are very affordable. But you can order a fiber optic Internet connection separately. Światłowód Internet plan costs 60 zlotys (about $15.47) per month. With this you get access to the Internet at a speed of 300 Mbps.
Światłowód from Orange is a very good offer, the price for the package is low. With earnings of $50 and more from a channel in Poland, such expenses will be affordable for you. And a speed of 300 Mbps is more than enough for the normal operation of equipment for voice traffic termination without interruptions. You can successfully work in Poland, even if you land large volumes of voice traffic.