The Republic of Fiji has a rather complicated telecommunications infrastructure, which is caused by geographical factors. At the same time, the mobile penetration and Internet penetration level is the highest among the islands of the Pacific Ocean. We'll find out if the Internet in Fiji is suitable for profitable traffic termination - by signal speed and stability.
In 2019, the Internet penetration in the Republic of Fiji reached 60% (about 0.55 million connections). Currently, the largest share of Internet connections is in the LTE sector; nevertheless, the broadband segment is also quite developed. You can connect DSL, cable and fiber optic Internet in the country.
Fiji has a complicated geographic environment for the development of telecommunications infrastructure, as the population lives on more than 100 islands. This being the case, most of the residents are located on two main islands - Viti Levu and Vanua Levu. Keep this in mind when placing your GSM gateways in Fiji.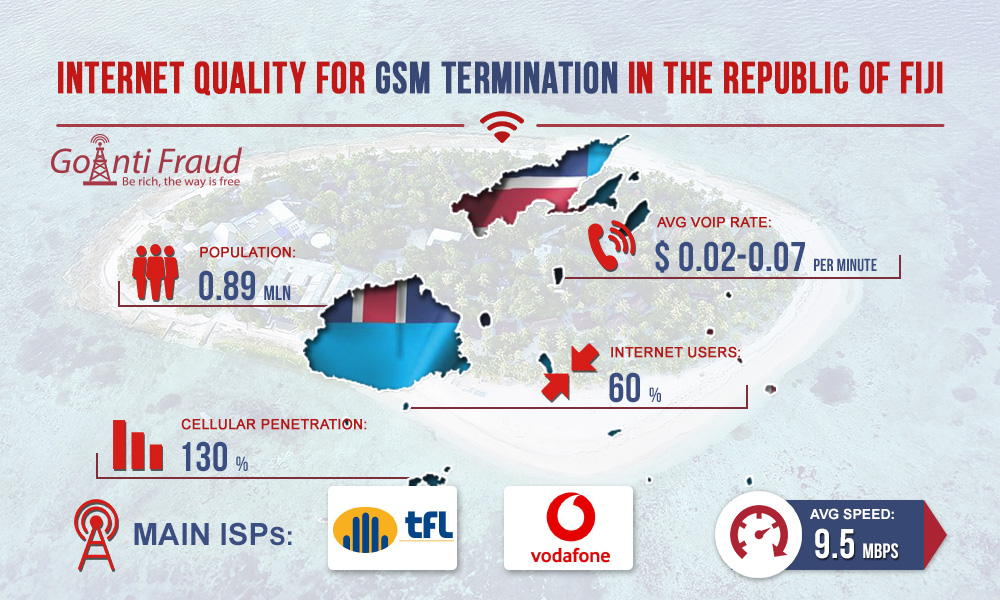 The country is served by three international submarine cables; in 2018, two main islands were connected via an internal submarine cable system. This provided high-speed Internet access and reliable communication between the islands during extreme weather conditions, which are not uncommon in Fiji (tropical cyclones which often destroy telecommunications infrastructure).
The main Internet providers in Fiji are Telecom Fiji Limited and Vodafone (who also provide mobile services). The average Internet speed in the country is 9.5 Mbps; it is an excellent indicator. For stable operation of the gsm gateway for call termination without interruptions, the minimum speed should be 2-5 Mbps.