Ivory Coast is an attractive place in Africa to start a voice traffic termination business. With an average rate of $ 0.1 per minute, the mobile communication is inexpensive there, and the mobile sector is well developed. In theory, terminator can earn $100 and more per channel in this country. But is the Internet in Ivory Coast suitable for work in this area?
In Ivory Coast, economic growth has been observed in recent years, which has an effect in the telecommunications market. The strongest sector is the mobile communications sector (mobile penetration rate is 128%). At the same time, the fixed and broadband Internet access sector remains not very developed. This is partly due to the long-standing monopoly on fiber optic submarine cable, due to which the prices for Internet services were very high.
In 2011, the problem was solved, when another cable was laid. Thanks to the additional cable, retail prices for broadband access services have dropped significantly. A national fiber optic network was also created; in 2019 it was connected to the MaimOne international submarine cable. Today, the Internet penetration in the country has reached 44%, which is approximately 11 million connections.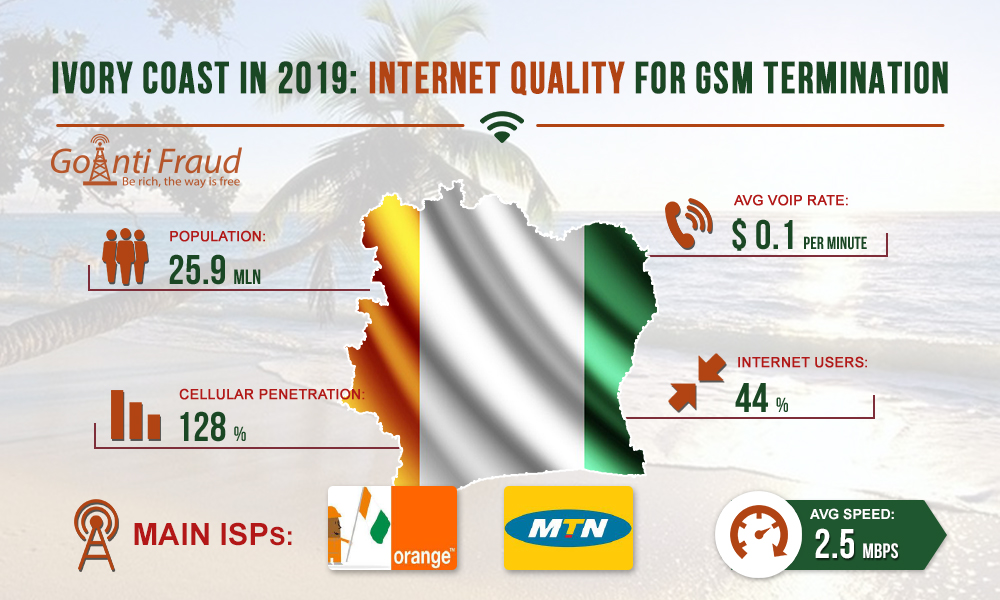 Currently, residents of Ivory Coast can enjoy the following Internet connection technologies:
DSL.
WiMAX.
EV-DO.
Fiber-Optic.
Major Internet Providers in Ivory Coast are Orange and MTN. They provide mobile communication services in parallel. The average Internet speed is 2.5 Mbps, which is quite a normal indicator in terms of termination. For uninterrupted operation of goip-8 gsm voip gateway, the minimum speed should be 2 Mbps. And in fact, in large settlements of the country, you can connect the Internet at a speed of up to 100 Mbps.