The West African country of Mali is a good choice for starting a voice termination business. The average rate for this direction is $0.17 per minute of conversation. The population is more than 19.9 million people there, due to this there is always a lot of traffic. Moreover, the mobile communications services sector is well developed in the country (the mobile penetration is 91%). How much can one earn on termination in Mali?
As of 2019, more than 17.7 million mobile connections have been recorded in the Republic of Mali. Over 99% of all SIM cards are connected on a prepaid basis. There are three GSM operators in the country:
Since 2015, prepaid SIM cards require registration by law in Mali. At the same time, you can buy cards from street merchants, however, if they are not registered, they can be quickly blocked. Therefore, we recommend establishing cooperation with someone who can supply you with a large amount of SIM cards issued to someone else.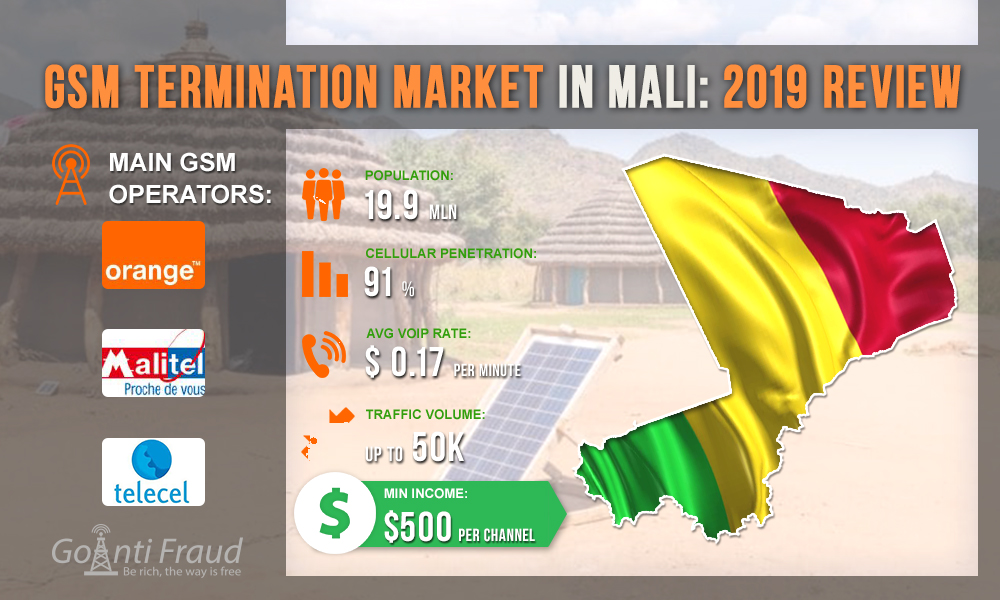 The cost of a prepaid SIM card in the Republic of Mali is about $1.7. Calls to national numbers are inexpensive. You can connect packages, within which a minute of a call will cost about $0.035.
Earnings on the asterisk voip termination in Mali can range from $500 from each equipment port (when the gateway runs for 4 hours a day). The more channels work, the higher will be the profit for the terminator. But remember that it is recommended to place the gateways with a number of ports not exceeding 8 pcs in one location.