Ivory Coast attracts terminator with high rate (an average of $0.17 per minute), well-developed mobile communications market, and low rates for local calls. High-quality Internet needed for the operation of VoIP equipment is also available in this African country. All we need to find out is what the costs of connecting to the Internet are and whether they will hit the terminator's pocket.
Until recently, the prices of Internet services in Ivory Coast were high because the country had a monopoly for fiber optic submarine cable. In 2011, an additional cable was laid in the country, which positively affected pricing. A national fiber network has also been launched.
The most popular Internet service providers are Orange and MTN; in parallel, they provide mobile services. Let's discuss the current tariffs for connecting to the Internet using the example of Orange.
Orange has several offers for their customers, including ADSL and fiber optic Internet. Optical fiber is perfect for termination, the Internet connection using this technology is the most stable.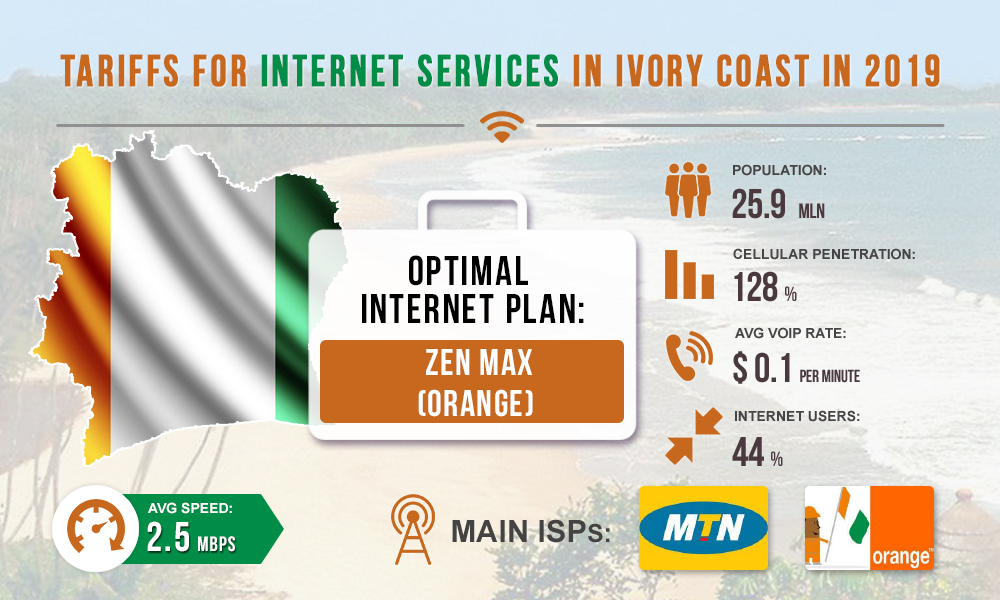 The Fibre range includes several Internet plans:
Zen Max. Speed — 5 Mbps. Price - $48.9 a month.
Zen. Speed — 30 Mbps. Price - $59 a month.
Play. Speed — 50 Mbps. Price - $92.8 a month.
Jet. Speed — 100 Mbps. Price - $126.6 a month.
Super Jet. Speed — 200 Mbps. Price - $143.5 a month.
Zen Max is the best choice for calls termination; 5 Mbps speed is sufficient for uninterrupted operation of goip 4 channels voip gsm gateway. In this case, the monthly Internet costs would amount to $48.9. With an income of 500 USD and more from each channel, such costs will not hit your pocket.