For profitable GSM termination, you need to choose an appropriate tariff plan for calls from a large operator in the country where the gateways are located. Telecel is the third largest GSM operator in the Republic of Mali in the number of subscribers. The network covers almost all areas of the country. The low cost of the starting plan and minimal call rates make Telecel SIM cards a good choice for traffic landing.
A prepaid SIM card is sold for $0.85, and a welcome bonus for the same amount is immediately available on the balance account. It can be spent on local calls and on connecting various packages. However, to buy cards in the official store you need to present your passport, while the cards bought from the street merchants quickly get blocked if you do not register them. Therefore, it is better to agree in advance with someone about the supply of large amounts of SIM cards that are registered to other people.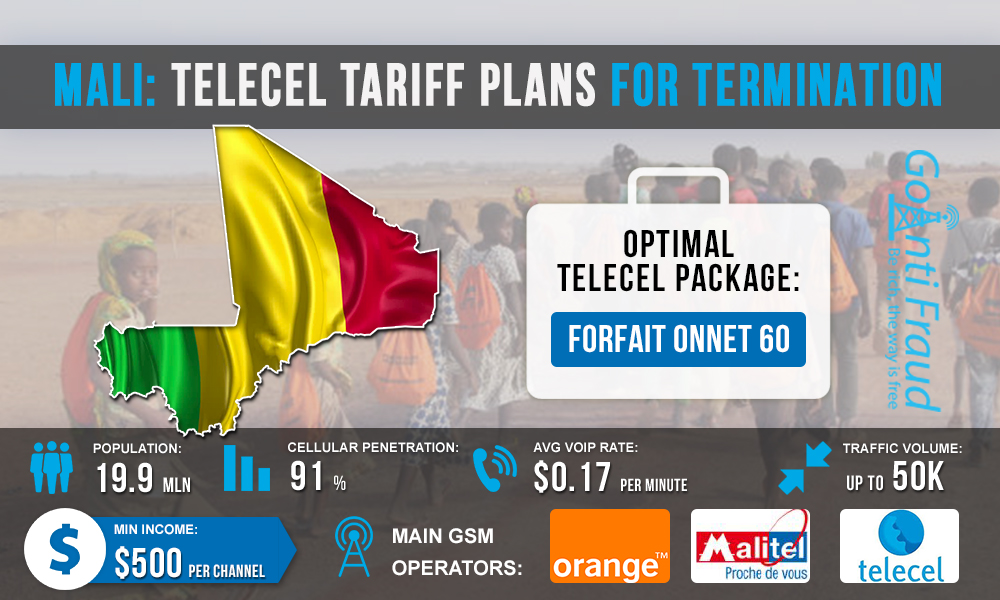 As part of Offre Prepayee, the default tariff is $ 0.1 per minute for calls (to any network). It is also possible to connect one of the Forfaits OnNet packages:
5 min. The subscriber gets 5 minutes for calls in the network. Connection cost — $0.34. Duration — 1 day.
30 min. The subscriber gets 30 minutes for calls in the network. Connection cost — $1.28. Duration — 4 days.
60 min. The subscriber gets 60 minutes for calls in the network. Connection cost — $2.14. Duration — 7 day.
If you need to make calls within the Telecel network, Forfait OnNet 60 min would be the best choice. With this package, the cost of a minute of an outgoing call will be $0.03. Using the capabilities of this tariff plan, you can earn $170 and more from one goip 8 port - voip-gsm (when the gateway runs for one hour a day). By increasing the amount of the landed traffic, you will increase your profit.