The Republic of Mali is perfect as a destination for traffic termination. High rate, low-cost cellular communications within the country, a well-developed mobile sector, the ability to connect a stable Internet are all favorable conditions for the successful conduct of the telecommunication business. But to minimize business expenses, one has to choose a profitable Internet plan. Let's discuss the rates for Internet services in Mali based on the example of Orange.
Orange is one of the most popular providers in the Republic of Mali. It simultaneously provides cellular communications services, so it can monitor and block the terminator's Internet traffic. Keep this in mind when working: it is worthwhile to mask traffic packages in order to ward off the provider's suspicions.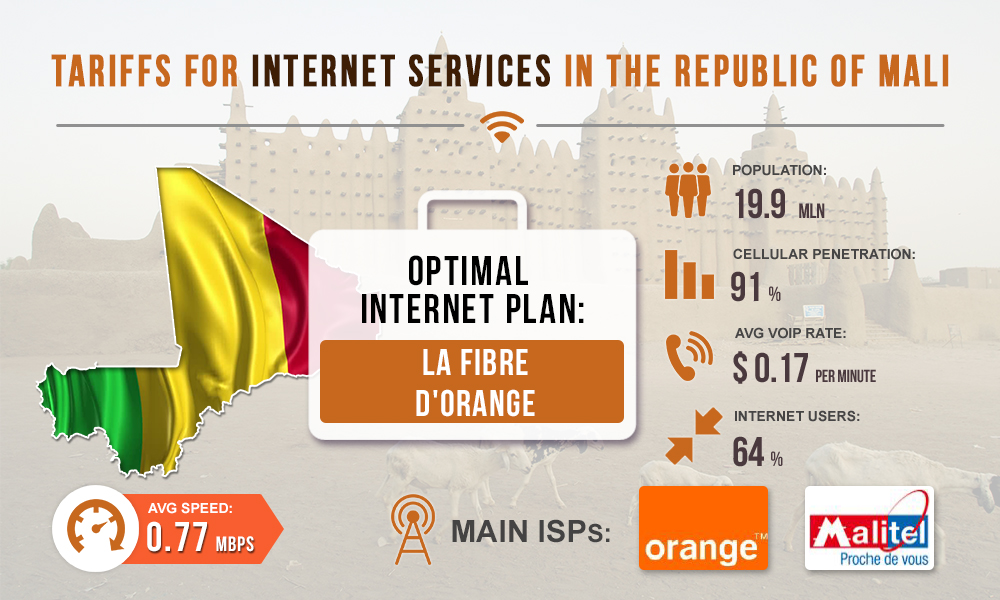 Orange has two main areas of Internet services - ADSL and Fiber-Optic. Fiber optic Internet is best for earning money on termination, as it provides a reliable connection with minimal disruptions along with high speed. The La Fiber d'Orange offer is available in one option - at a speed of up to 30 Mbps. Tariffs depend on how many months you are ready to prepay for Internet in a lump sum:
$66.5 a month — if you pay for one month at a time.
$63.9 a month — if you pay for three months at a time (payment sum — $191.90).
$61.4 a month — if you pay for six months at a time (payment sum — $368.4).
$59.7 a month — if you pay for 12 months at a time (payment sum — $716.4).
La Fibre d'Orange — is a great option for operation of gateway goip-32 gsm voip or other GoIP equipment. Whether or not to prepay the Internet for several months at once, is up to you, but the savings with such form of payment are negligible.