Tanzania is a country with a population of more than 58.9 million people, due to this fact, there is always a lot of voice traffic concentrated there. The local government actively supports competition in the telecommunications market, which contributes to the development of the mobile sector. With an average rate of $0.12 per minute, Tanzania seems like a promising direction for voice termination. Let's will find out how much you can earn there in 2020.
As of 2019, cellular penetration in Tanzania has reached 90% (which is about 53 million connections). Currently, there are 5 GSM operators in the country:
Vodacom.
Tigo.
Airtel.
Halotel.
Zantel (is expected to merge with Tigo).
There are also two operators in the country that provide only LTE services - Smile and TTCL.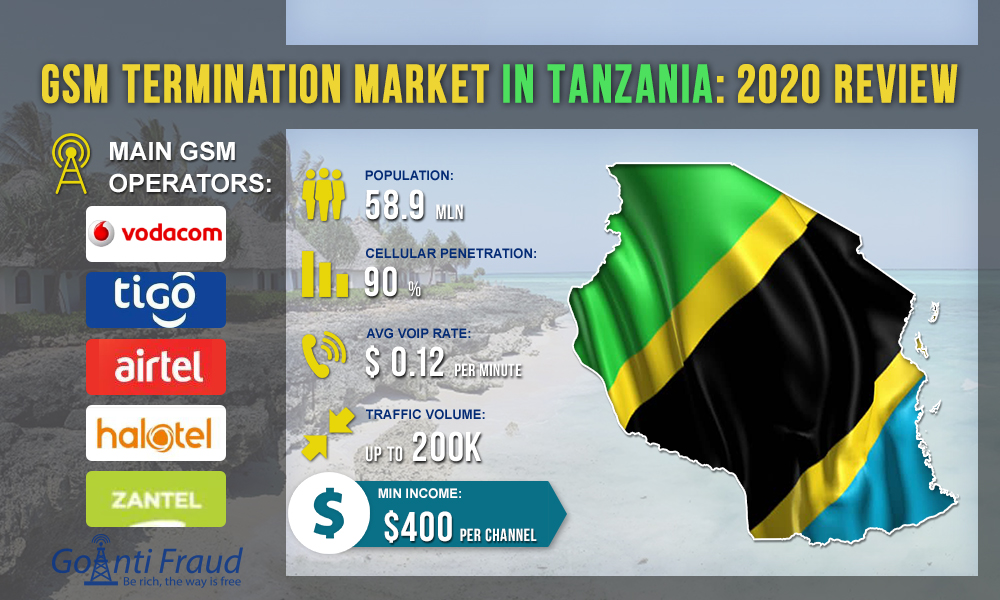 It is believed that GSM coverage in Tanzania is worse than that in neighboring countries - Kenya and Uganda. However, networks cover most of the territory. Prepaid SIM cards are sold almost everywhere in Tanzania. But the law requires the card to be registered. Moreover, since 2019, a biometric registration system has been introduced - that is, by fingerprints.
In addition, the government adopted a law to block devices with invalid IMEIs. Take these facts into account when terminating - it is important to establish cooperation with a supplier of SIM cards already registered into someone's name, as well as to ensure that IMEI gateways are replaced with real numbers.
The cost of one prepaid SIM card in Tanzania ranges from 25 cents to 2 dollars. A minute of a call can cost about $0.01 per minute, if you select the appropriate tariff plan. The owner of gsm gateway equipment will earn at least $400 from each channel.