The population of the North African state of Algeria totals more than 43.5 million. Voice traffic is constantly generated in the country due to the large population, so the terminator can make good money on it. The average rate for this direction is $0.2-$0.22 per minute of conversation. Let's learn more about the VoIP termination market in Algeria.
Algeria has a well-developed telecommunications market, which continues to grow. Particularly high growth is observed in the mobile sector. Cellular penetration in the country has reached 117% (over 49.5 million connections). Currently, 3 GSM operators work in the country:
Prepaid SIM cards are sold for $2.5 apiece throughout the country, but by law they must be registered. Therefore, you will not be able to buy the cards in the official store. We recommend starting cooperation with a dealer who will supply you with a large number of starting plans already registered to some Algerians.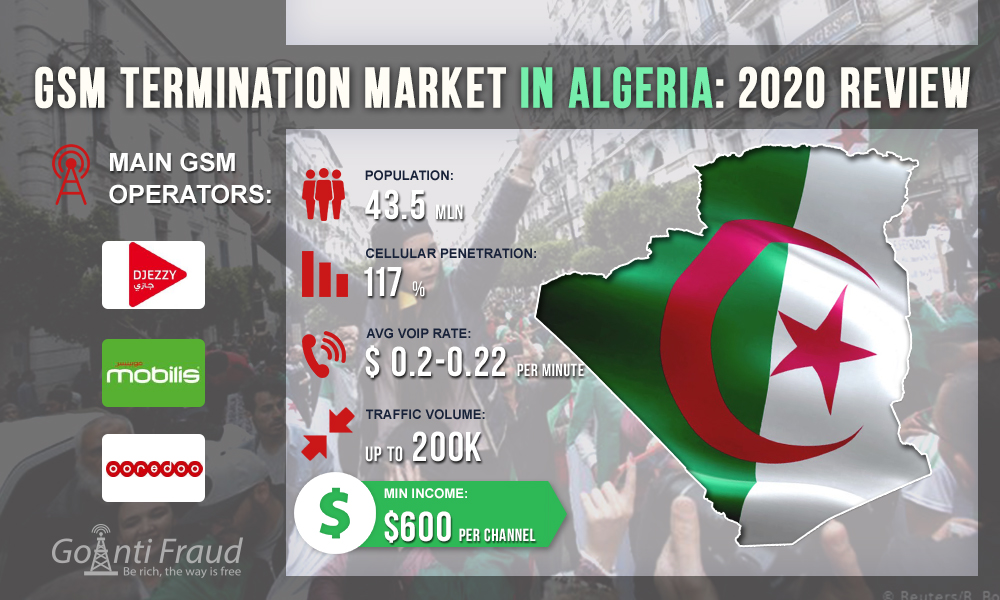 Local mobile communication in Algeria is inexpensive due to intense competition. The standard calling rate is about 8 cents per minute, and special offers allow you to call at a price of up to $0.004 per minute. Thus, if you locate your gsm goip gateway in Algeria, you can earn $600 and more from each channel, provided that you choose a profitable package for outgoing calls.
The more traffic you land, the higher your profit is, but at first, the traffic providers provide the minimum number of minutes. Over time, more traffic will be supplied to you and your revenue will grow.