Algeria is a promising area for earning on termination like many countries in the African continent. Due to the high rate ($0.2- $0.22 per minute of call) and inexpensive local calls, the gateway owner can earn $600 and more per channel in this country. But for a stable profit you need good Internet. Let's see if high-quality Internet connection is available in Algeria.
The telecommunications market in Algeria has a developing infrastructure; its growth is constantly stimulated by the government. At the moment, measures are being taken to increase the number of stable Internet connections in the country, especially in remote areas. Algeria's infrastructure includes national fiber network and submarine communications line. The Internet penetration has reached 58% (more than 24.4 million connections), as of 2019.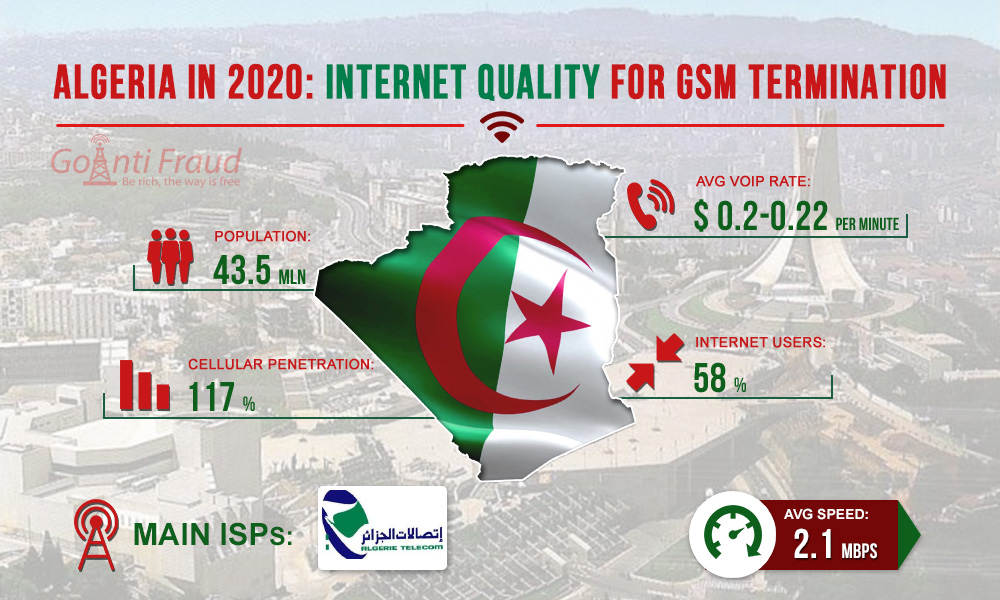 The country's leading Internet service provider is Algerie Telecom. The provider offers connectivity based on various technologies, including ADSL and fiber. The average connection speed in Algeria is 2.1 Mbps. This is the minimum speed required for normal operation of voip equipment. In fact, the country has fiber optic connections with a higher speed (up to 100 Mbps).
When choosing an Internet service provider and service package, pay attention not only to the speed and stability of the connection. It is also important to consider the cost of the connection in order to optimize business expenses. Follow our updates: we will write about the tariffs for Internet services in Algeria soon.