Algeria has everything to make good money on call termination, which is high rate (about $0.22 per minute of a call), developed mobile communications market and the ability to connect reliable Internet. All we have to do is to find out how much the Internet connection will cost the terminator.
Internet penetration in Algeria is 58%, which is more than 24.4 million connections in the country. The country has a national fiber optic trunk and submarine cables. It is possible to connect DSL and Fiber-Optic. The main provider in Algeria is Algerie Telecom; we will use it as an example to find out the prices of the Internet access services.
The ADSL offer includes several packages with different speeds:
4 Mbps. Cost per month — $21.7, speed — 4 Mbps.
8 Mbps. Cost per month — $30, speed — 8 Mbps.
20 Mbps. Cost per month — $66, speed — 20 Mbps.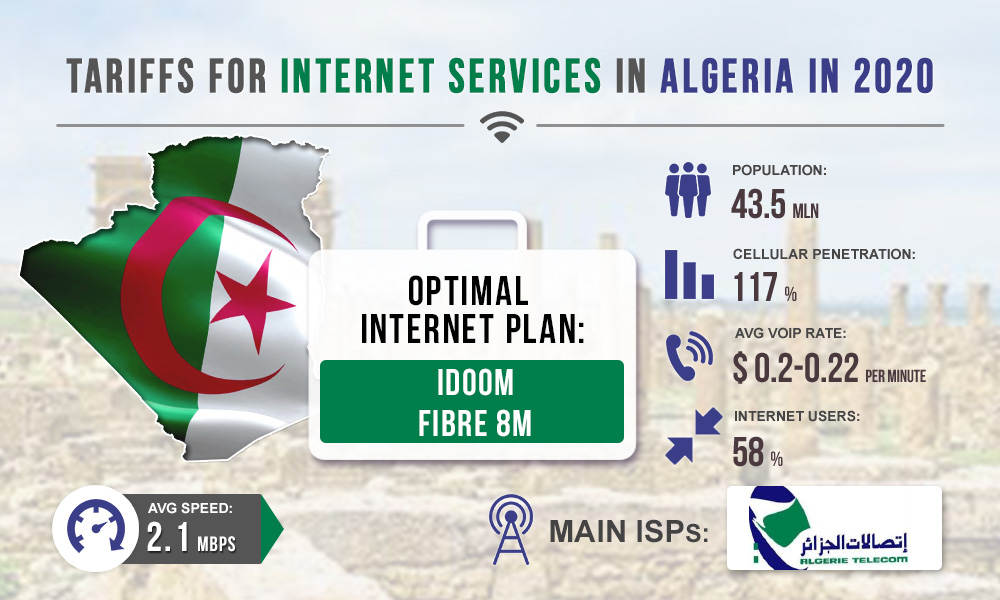 Fiber offer includes the following Internet plans:
4 Mbps. Cost per month — $21.7, speed — 4 Mbps.
8 Mbps. Cost per month — $30, speed — 8 Mbps.
The most suitable tariff plan of the Algerie Telecom provider is Fiber 8 Mbps. The speed of 2 to 5 Mbps is enough for the uninterrupted operation of voip gsm gateway for call termination. Fiber 8 Mbps provides for the speed of 8 Mbps, which is more than enough for effective termination. In addition, fiber optic connections are considered the most stable and stability is very important for traffic landing. In this case, your Internet expenses will be only $30 per month (with a minimum income of $600 from a channel in Algeria).