The East African country of Uganda with a population of more than 45.1 million people is a promising area for VoIP traffic termination. By placing gateways here, an entrepreneur can expect a profit of $100 and more from a channel. Uganda has cheap mobile communications, and the average rate is $0.12 per minute there. Let's discus the local GSM termination market features in more detail.
The mobile communication market in Uganda is saturated with mobile operators. High competition stimulates the prices for services to drop to minimum. There are 5 GSM operators in the country in total:
MTN.
Airtel.
UT Mobile.
Africell.
Smile.
The cost of one prepaid starting package is about 55 cents. However, to buy a SIM card, you need to show you ID, since by law each card must be registered. For termination, cards are needed in large amounts, therefore, we recommend that you make a deal with someone on a stable supply of starting plans issued for someone else, preferably for the residents of Uganda.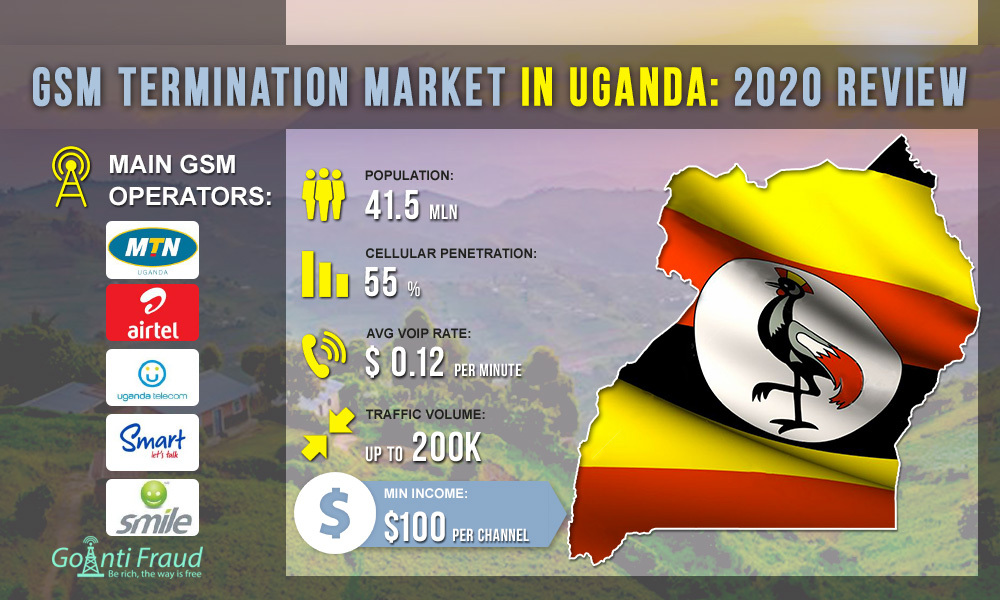 Local mobile operators offer various service packages, within which a minute of a call can cost $0.009 and more. Given the average rate in Uganda, the minimum terminator earnings in this country will be at least $100 from one gsm gateway for pbx channel. The more traffic you land, the higher is your income.
In the beginning, the traffic providers provide the newcomer-terminators with small volumes of minutes. But in the future, the amount of traffic increases, especially given the fact that quite a lot of traffic is concentrated in Uganda, due to high population.