In Uganda, you can make good money by voice traffic landing. There are all conditions for this, such as high rate, cheap local communication and access to a stable Internet. All we have to find out is what expenses the gateway owner will have to bear to connect and use the Internet.
The Internet services sector in Uganda is considered one of the most competitive in the region. This was facilitated by reforms in the local market. As of 2019, the Internet penetration has reached 42%, while there are many Internet service providers in the country. Among the most popular are Uganda Telecom, MTN, Airtel, which are also the mobile operators. Let's learn the tariffs using the example of Uganda Telecom.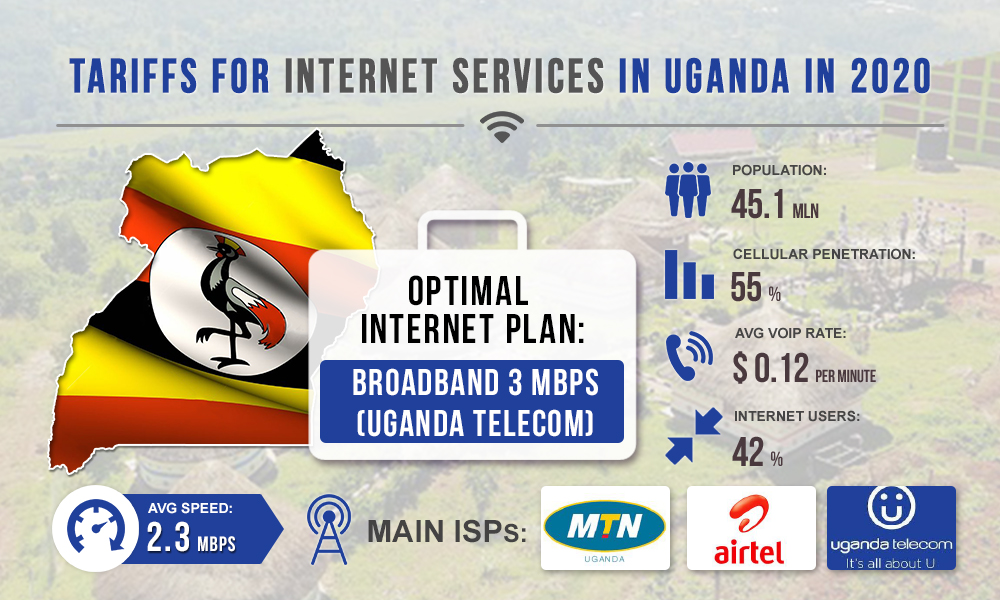 Uganda Telecom has several connection options: ADSL, WiMax and Nanobeam. In most cases, the use of a particular technology depends on the area in which you want to connect the Internet. Uganda Telecom offers several Internet plans with different speeds:
1 Mbps. Price - $32.7 a month.
2 Mbps. Price - $40.9 a month.
3 Mbps. Price - $54.5 a month.
4 Mbps. Price - $125.4-$148 a month.
5 Mbps. Price - $182.7-$215.5 a month.
Broadband 3 Mbps is the best choice for the gsm bri gateway. The minimum recommended Internet speed for termination is 2 Mbps. This will ensure effective operation of the gateway for 8 channels in one location. To have a small speed margin, give preference to the 3Mbps package, since the price difference compared with the 3 Mbps package is not significant. With a minimum income of $ 100 per channel in Uganda, $ 54.5 per month will not hit your pocket hard.