The Democratic Republic of the Congo is an African country with a turbulent history that has suffered from wars. This left a certain imprint on the state of the telecommunications sector of the economy. Nevertheless, the country has a high cellular penetration and a high rate in this area (about $0.15 per minute). The population is more than 88.7 million people, which ensures a constant influx of voice traffic into the country. Let's find out more about the possibility of starting a voice termination business in the Democratic Republic of the Congo.
The complicated past of the state has largely led to the low development of the telecommunications market - it remains one of the least developed in the region. But the limited and dilapidated infrastructure of fixed-line communications has helped the GSM technology gain the popularity. As a result, mobile operators have become major telecommunications providers in the Democratic Republic of the Congo.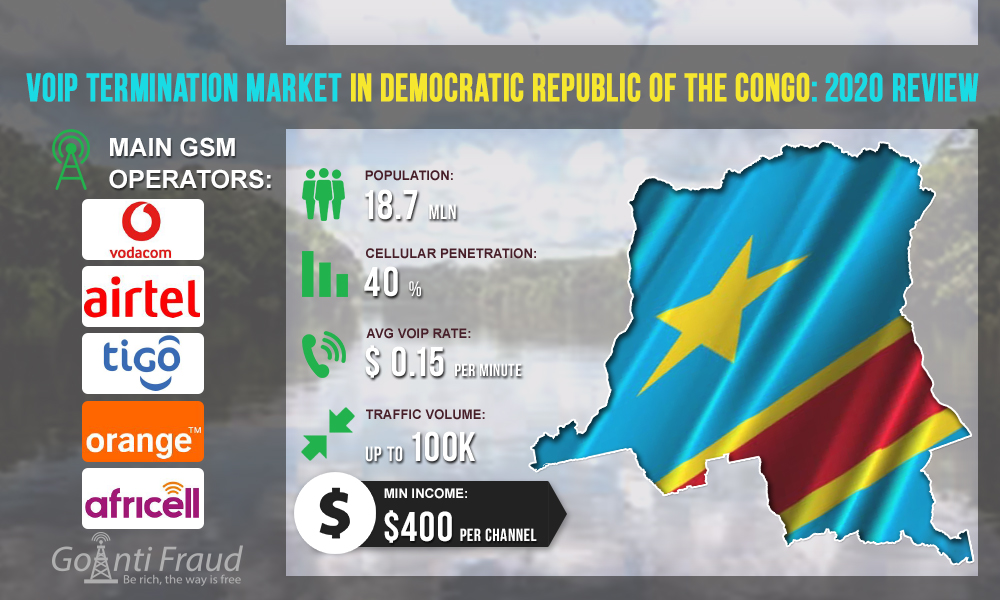 As of January 2020, mobile penetration in the country has reached 40% (more than 35 million connections). There are 5 GSM operators in the country:
Vodacom.
Airtel.
Tigo.
Orange.
Africell.
IM cards can be bought in operators' stores, on the streets and in various retail outlets. The cost of a starting package is up to one dollar. The tariff for calls within the network is $0.059, to the numbers of other operators - $0.07. At the same time, there are many profitable offers for prepaid subscribers. The minimum earnings of the terminator will be $400 (when using the gsm voip gateway goip 16 for 5 hours a day).