Zambia is a promising country for hosting GSM gateways. With an average rate of $0.12- $0.15 per minute, there is a fairly developed mobile communications sector and low rates for local calls. This allows you earning at least $150 from one port of equipment, but subject to the availability of a stable Internet connection. Let's see if there is an opportunity to connect reliable Internet with sufficient speed in Zambia.
At the moment, the Internet penetration in Zambia is 41% (more than 7 million) of connections and further growth of the Internet sector is forecasted. The Zambian government has focused on the development of telecommunications to stimulate the growth of the digital economy. In particular, measures have been taken to expand broadband access and improve communications with international fiber optic cables. Due to this, tariffs for Internet services for the population have decreased.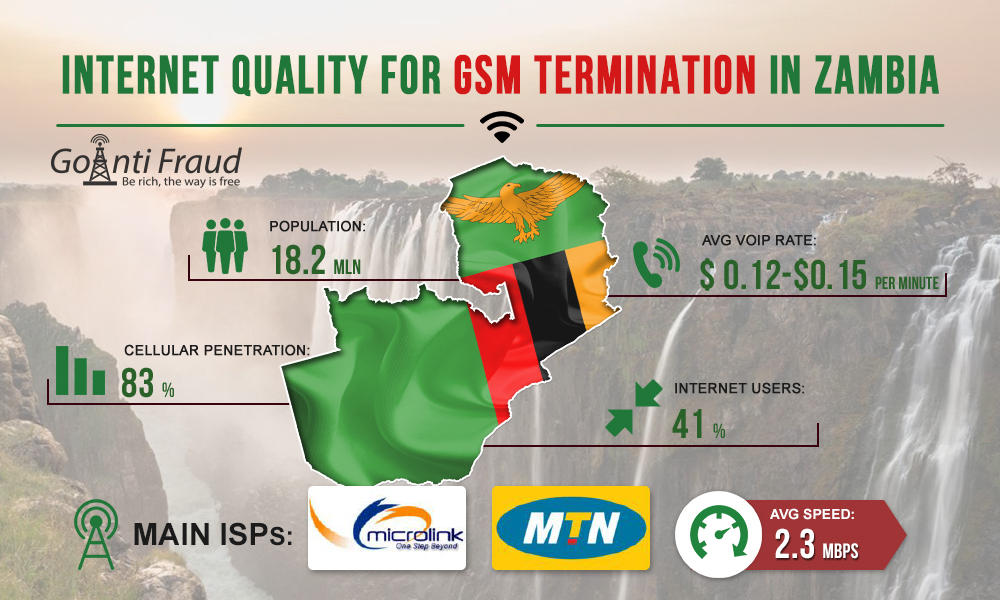 The most popular Internet providers in Zambia are MTN (which is also a mobile operator), Liquid Telecom and Microlink. They offer various types of connections, including fiber. For termination, you need a stable Internet, so fiber optic connection is an excellent choice.
An average Internet Bandwidth in the country is 2.3 Mbps. The minimum recommended speed for effective operation of the gsm data gateway is 2-5 Mbps, so the average speed is quite enough for termination. In fact, it is possible to connect fiber optic Internet at a speed of up to 20 Mbps in Zambia, which will allow you to successfully work with a large number of channels.