Zambia is a good place to host the VoIP GSM gateways. High rates, low-cost cellular communication, a lot of traffic and ability to connect a stable Internet are all excellent prerequisites for starting a voice termination business. But to get high profits, you need to minimize business expenses, including Internet costs. We will tell how much the tariffs for Internet services in Zambia are.
Over the recent years, the government has significantly expanded its broadband access networks, which produced a positive effect on pricing. At the moment, it is possible to connect fiber optic Internet in Zambia. Let's discuss the price for the services on the example of the provider Liquid Telecom.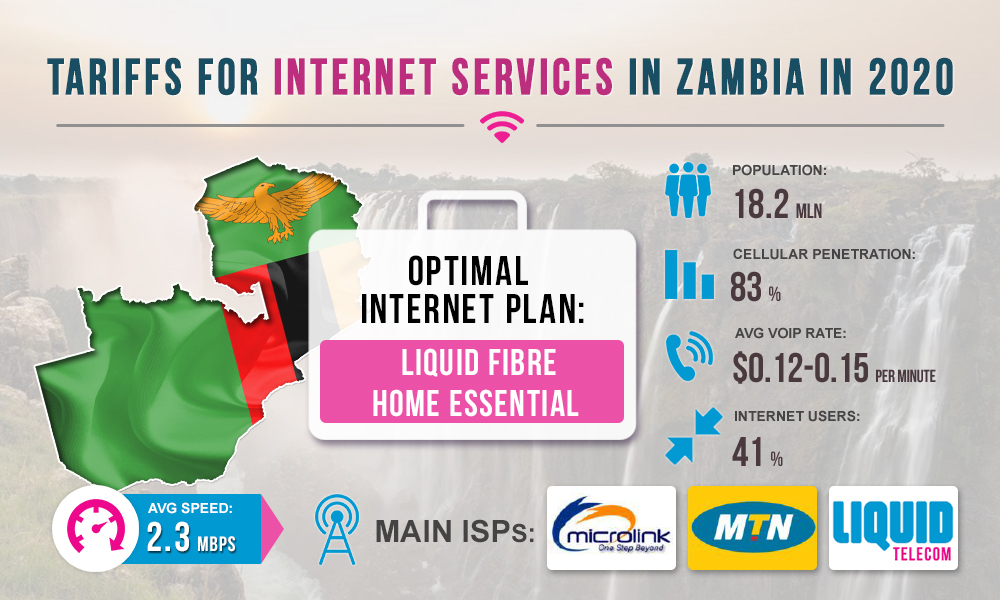 Liquid Telecom offers fiber optic Internet access as part of the Liquid Fiber Line. All packages included in it are unlimited, that is, they do not impose restrictions on the consumption of Internet traffic. A total of 5 packages are available:
Home Lite. Speed — up do 3 Mbps. Cost — $22.3 per month.
Home Essential. Speed — up do 5 Mbps. Cost — $31.3 per month.
Family Entertainment. Speed — up do 10 Mbps. Cost — $55.3 per month.
Modern Family. Speed — up do 15 Mbps. Cost — $89.4 per month.
Power Pack. Speed — up do 20 Mbps. Cost — $110.7 per month.
The connection is free for all Liquid Fiber Internet plans.

For efficient and stable operation of the gsm home gateway, the minimum recommended speed is 2-5 Mbps. Therefore, the Home Essential Internet plan with a speed of 5 Mbps is the most suitable for termination, this speed is quite enough. At the same time, monthly Internet costs will be minimal - only $ 31.3.