In order to save money, most CEOs install multichannel GoIP 32 gateways to reduce expenditures on additional means of communication - computers and mobile phones, as well as multiple telephone lines. At the same time, using GoIP, you can connect phones to a VoIP system and combine the operation of GSM and IP-PBXs.
32-channel gateways can withstand a high communication load, and allow you to create advanced telephony for the office. They are often used in call centers, "hotline", that is, wherever there are a lot of calls received every day. If one or more channels of the gateway fail, the termination will not be affected, since a lot of other equipment ports are engaged.
SIM cards are grouped in all 32 channels. And you can use a number of different GSM operators. The system automatically selects the most favorable tariff. To do an efficient termination, several VoIP devices are typically installed.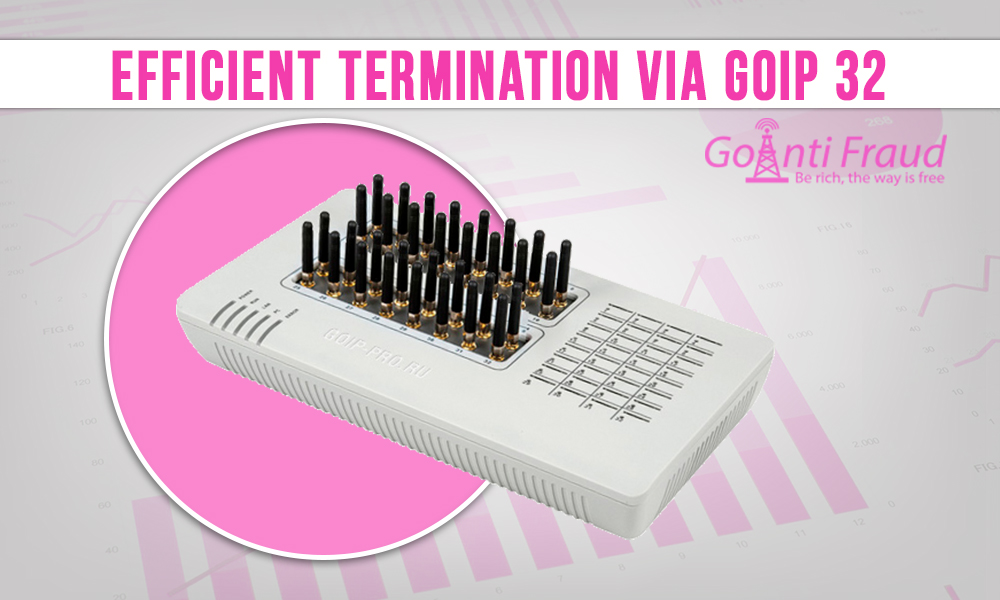 The 32-port gateways can also be used for the successful termination of traffic. At the same time, newcomers are faced with the rapid blocking of SIM cards by the operator, since it is impossible to take into account all the parameters of the behavior of a living person in the network. And when you connect and reboot immediately 32 SIM cards, the operator understands that the termination is underway, and blocks numbers. To avoid such situations, it is best to connect the gateway to GoAntiFraud, to skillfully bypass the operator antifraud and extend the life of SIM cards.
But that is not all! The service helps to coordinate VoIP-system remotely and intelligently, with correct installation, connection, and the setup of the gateway VoIP. Experienced terminators know how much time and effort these actions take. Because you have to register the required data and set up 32 channels one by one. For these purposes, it is better to invite a specialist. GoAntiFraud allows you to flexibly configure the gateway function for the customer's needs, using the maximum capabilities of the device.