Cameroon is very popular among the terminators as a profitable direction for landing calls, with the number of international calls growing in this country.
In Cameroon, there are three main GSM-operators, including MTN Cameroon, Orange Cameroon, and Camtel. Despite the fact that Camtel offers the lowest calling rates, it is advantageous for the terminator to use MTN SIM-cards. Although this provider offers rather a high price for local calls, as compared to others, it provides most of the traffic. It covers more than 93% of Cameroon's population, and its services are used by about 11 million local residents. This allows terminator to handle more traffic.
Increase your revenues from GSM termination in Cameroon , using GoAntiFraud! We provide you with proven tools to protect the SIM-cards from the lock and will render professional assistance in setting termination logic, in accordance with the characteristics of your country.
MTN Cameroon offers two tariff plans for subscribers who purchase prepaid packages - MTN Sky and MTN Best. The most profitable in terms of GSM termination in Cameroon is MTN Best. This tariff plan provides the ability to connect the Easy Booster bonus, doubling the top-up amount. Easy Booster is free to connect, and bonuses are valid for 1, 3 or 5 days, depending on the top-up amount. It is important for termination, as terminated SIM-cards last for about a week.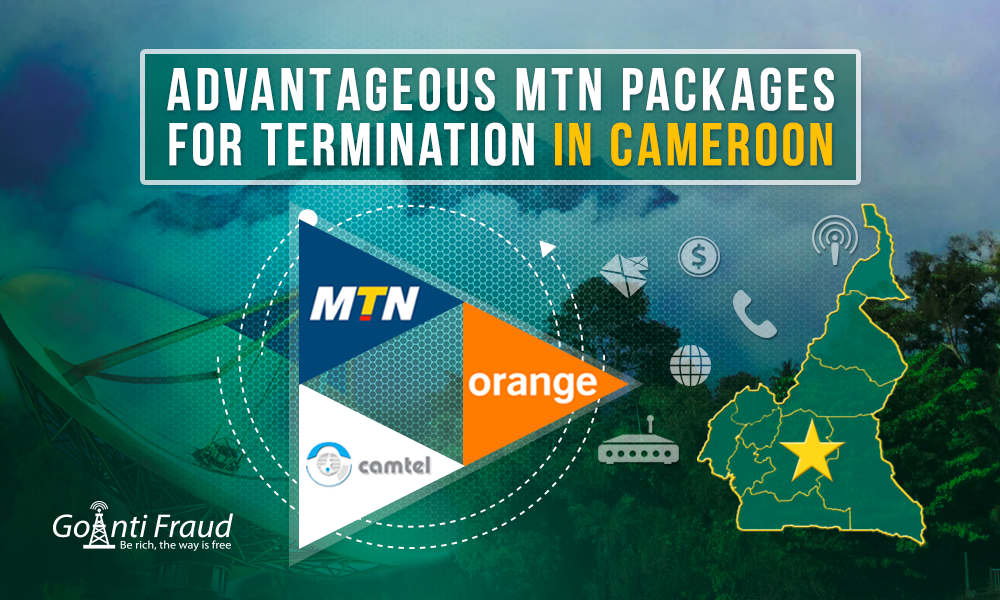 It is best to connect the bonuses for 1 or 3 days so that the card is not blocked prematurely from a severe load and you cannot use it until it expires. However, this tariff plan provides relative safety of SIM-cards from AntiFraud systems. Mobile operators are not really watching the numbers that are connected to Easy Booster because real people try to spend all the bonus minutes for the given period of validity, and the increased activity is not surprising.
Day calls cost $0.1 a minute within MTN. A 5-hour uninterrupted operation of each SIM-card in the 8-channel VoIP GSM gateway using Easy Booster bonuses require $120 a day for on-net calls, that is $2,400 per month. Additionally, the monthly cost of buying new packages will be about $80. Thus, choosing the MTN Best tariff plan, you can on average make about $8,350 per month terminating in Cameroon.
Do you plan to invest in the GSM termination in Cameroon ? You will be interested in GoAntiFraud NewBusiness offer for beginners. This is a business package that includes everything you need to work at an early stage. In addition to VoIP equipment, AntiFraud protection tools and convenient software, we provide professional technical support at all stages of your business!